Happy Birthday Canada!!!
We are closed for Canada Day, Saturday, July 1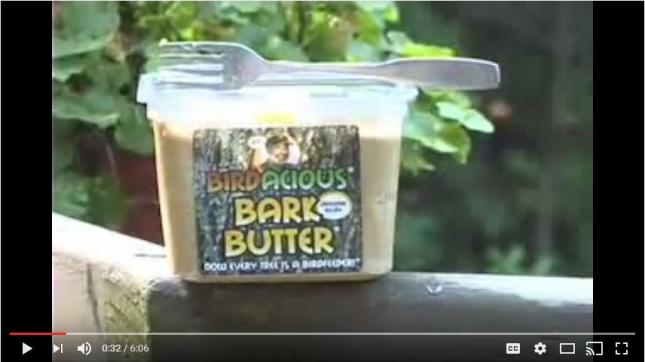 What is Bark Butter?
Bark Butter® - No bird food attracts more species of birds than Jim's Birdacious® Bark Butter®. Created by Jim Carpenter, founder of Wild Birds Unlimited, Bark Butter is a spreadable suet that can be easily smeared on tree bark or a Bark Butter Feeder.
A 32 oz tub of Bark Butter is priced at $16.99
Bark Butter® Bits are bite-sized nuggets made from suet and other high-quality ingredients your birds will love. Will attract a variety of birds, including many that do not normally visit feeders.
A 3.5 lb bag of Bark Butter Bits is priced at $14.99.
Click here or on the image above to hear what Jim has to say about how Bark Butter works, and how to use it to attract over 140 species of birds. When this video was first recorded, only 60 species of birds had been seen eating it. The number has climbed to 140 species of birds as of 2017.
Drop in to the store to learn more about Jim's Birdacious Bark Butter products.
Learn about how to save with our Daily Savings Club membership. Right now, members can buy a tub of Bark Butter® and get a second at half price.
----------------------------------------------------
Castart Concrete Bird Baths and Benches Are Here
Wild Birds Unlimited

Find us at:

12204 107 Ave NW Edmonton AB T5M 4A8

For what's happening in nature this month go to:

Check out Upcoming Events at Wild Birds Unlimited, Edmonton.

For news of other nature events in the community check out the following pages.

Edmonton Nature Club - Calendar

Nature Alberta - Events