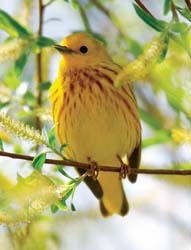 Where to Go Birding in Alberta
Birding is an incredibly popular hobby! Heading out into nature with a pair of binoculars and a guidebook to find, watch, and enjoy birds that don't ordinarily visit backyard feeders is exciting and fun. Here are some hot spots to visit around our beautiful province:
EDMONTON AREA
Whitemud Creek
https://ebird.org/hotspot/L903263
A heavily treed ravine running through the heart of the city, Whitemud is a great place to bird in both winter and summer. Bird feeders are maintained at various points in the ravine, and the shallow creek creates habitat which is a magnet to migrating birds. Several species of owls nest in the thick spruce stands.
Hermitage Park
https://ebird.org/hotspot/L817096
Bordered by the river, this park is good year-round. In the summer, small ponds host breeding and migrating waterfowl, and in the winter the excellent volunteer run bird feeders support good numbers of species and individual birds, which in turn occasionally draw in owls or accipiters. Watch for an overwintering Purple Finch among the House Finches.
Lois Hole Centennial PP
https://ebird.org/hotspot/L4543653
Also known as "Big Lake," this sprawling wetland is a major staging area for thousands of ducks, geese and swans. The marshy edges of the lake support numerous shorebirds, and warblers, sparrows and woodpeckers can be found in the deciduous forests along the banks. Visiting in the winter is often unproductive, but the chickadees at the east end are well trained and enjoy being hand-fed.
Genesee Lake
https://ebird.org/hotspot/L1131197
Though a bit farther from Edmonton proper, Genesee Lake becomes a birding target in the winter, when the power plant makes it one of the only open water bodies in the area. Dozens of ducks and swans overwinter here, and Bald Eagles are often seen hunting the lake. In late fall, rarities such as Long-tailed Ducks and Black Scoters are irregular visitors.

Clifford E. Lee Nature Sanctuary
https://ebird.org/hotspot/L265769
A raised boardwalk leads through swampy thickets and across a large pond, before splitting into several gravel paths. Clifford E. Lee offers breeding habitat to some waterfowl species and many migratory passerines. In winter, large flocks of Redpolls visit, usually including some very frosty Hoary Redpolls.
CALGARY AREA
Inglewood Bird Sanctuary
https://ebird.org/hotspot/L161199
This historic sanctuary is laced with gravel trails that make for easy walking. The top birding spot in the province, Inglewood features river access, deciduous forest, wide creeks and even some open grassland. Of particular interest is the breeding colony of Wood Ducks.
Carburn Park
https://ebird.org/hotspot/L294151
Another popular inner-city location is Carburn Park. In winter, the river stays open and plays host to thousands of over-wintering ducks and geese. During the warmer months, migrating warblers stop here en masse to take advantage of the sprawling deciduous forest. Great Horned Owls are always around, and a small party of Harlequin Ducks has made this park home.
Frank Lake
https://ebird.org/hotspot/L1146986
Frank Lake is a staple of Albertan birding. The blind at the Northwest end offers superb views of dozens of species both breeding and migratory, and the lake hosts one of the world's largest colonies of Franklin's Gulls. White-faced Ibis has established a colony too, and these gloriously glossy waders put on a spectacle for anyone watching. In winter, most of the lake freezes over, but Horned Larks, Snow Buntings and Redpolls feed in the surrounding fields. Keep an eye out for a Gyrfalcon or Snowy Owl, as both are annual winter sightings in the area.
Weaselhead Natural Area
https://ebird.org/hotspot/L267671
Located on the edge of Glenmore Reservoir - a great birding spot itself - the Weaselhead Natural Area is a lowland park with excellent trail systems through coniferous forests, thick marshy shrubbery, and mixed deciduous stands. Many species breed here, including numerous thrushes and warblers. The mudflats which back onto the reservoir are a great spot to see shorebirds, ducks, and gulls.
Fish Creek Provincial Park
https://ebird.org/hotspot/L475870
https://ebird.org/hotspot/L1466360
There are many different access points to Fish Creek Provincial Park, but the majority follow two common themes - small creeks, and thick coniferous forests with some deciduous habitat mixed in. Owls of all sorts show up here, and it's great for woodpeckers too. Equally good in both winter and summer, FCPP's main areas are Bebo Grove and Mallard Point (both linked).

ALBERTA GENERAL
Cold Lake Provincial Park
https://ebird.org/hotspot/L622216
Right on the Saskatchewan border is Cold Lake. It's quiet in the winter, but come spring, there are few better places in the western world to see boreal-breeding warblers. The lake itself supports hundreds of gulls, Western Grebes, and many types of waterfowl, while walking the trails in the Provincial Park can uncover over 20 species of warbler, and many other exciting birds.
The Bow Valley
https://ebird.org/hotspot/L4643540
In the heart of the Rockies, Canmore and Banff have many superb birding spots. Lac des Arcs and Vermillion Lakes are both great waterfowl staging areas, while places like the Cave and Basin or Flowing Waters Trail offer good all-round birding. Best of the lot is Policeman's Creek Trail in Canmore, where the funnelling effect of the mountains condense migrating songbirds into condensed flocks along this 3km creekside trail. Sora and Red-winged Blackbirds breed in the marsh, while Townsend's Warblers and Mountain Chickadees can be found in the trees. Keep your eyes peeled for lost rarities, as this location has turned up interesting birds before.
Dinosaur Provincial Park
https://ebird.org/hotspot/L990052
The badlands are an unforgiving land, but in the midst of the towering hoodoos and dry fields, Dinosaur Provincial Park is a lush change of pace. The river valley supports a unique habitat in which Rock Wrens, Common Nighthawks and Spotted Towhees breed. Be sure not to miss the Yellow-breasted Chat, as this is one of the only spots in Alberta where these colourful mimics can be reliably found.
Kinbrook Island Provincial Park
https://ebird.org/hotspot/L351687?yr=all&m=&rank=mrec
Not far from Dinosaur PP is Kinbrook Island, a campground and provincial park on the shores of Lake Newell. Amongst the many migrants that can be found here are the elusive Grey-cheeked Thrush. By checking the shores of the lake in May, you can find hundreds of shorebirds including Black-bellied Plovers, Red Knots, and Ruddy Turnstones.
Elk Island National Park
https://ebird.org/hotspot/L1148117
It may be known for the resident population of Bison, but Elk Island National Park is also a great spot for birdwatching. Trails of several different difficulties provide access to the over 100 species which breed in the park. In winter, Great Grey Owls and Ruffed Grouse are amongst the target species, as well as White-winged and Red Crossbills.
Do you have a favourite place to go birding? Let us know! Email [email protected]