Hummingbird Sightings - 2017 and previous years
2017
2016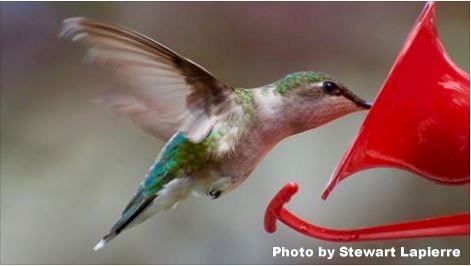 Jun 14 - Female sighted in St. Albert - photo by Stewart Lapierre.
June 1 - Saw one in our front yard 2 days ago. Dianne - Sherwood Park
June 1 - Ruby throated is back again this year. Hubbles Lake Subdivision, Range Road 13, near Stony Plain. There are often more than one hummingbird (appear to be mid-air fights). Joan.
May 30 - Had our first sighting yesterday evening, didn't stick around long checked out the feeder and left, didn't get an ID on exactly what type of hummingbird. Also saw it again checking out the feeder on Jun 1. Christian. North central St. Albert.
Approximately May 28 - There was a hummingbird in my yard a few days ago. Lynne Jorgensen.
May 28 - Two ruby-throats sighted at our cabin feeders at Mayatan Lake. Jan and Dave
May 27 - We have had at least one female ruby throated at our fuchsia and feeders daily since May 27. We live in Cameron Heights backing on River valley. Barb

May 17 - We have 2 ruby throated hummingbirds at our acreage in Parkland county, first sighted May 17, when one appeared at the window of our computer room, as if to announce he is here. Feeders (3) have been out since May 7th. Shirley McKay

For more current sightings, check out Michael Wiens' Hummingbird Sightings page and map.
2015
November - Jeanette Van Deel Peepers - Sherwood Park - Costa's Hummingbird seen regularly in her yard during the month. Identification of this rare bird in our parts was confirmed by a rare bird expert. This hummer was way out of its normal range and had gone, we know not where, by the first of December.
Aug 28 - Mary Richardson - Beaverbrook Cr, St Albert. "We had one ruby throated hummingbird in our yard on the evening of

May 13

and then didn't see any again until Aug 28 when we got two more (again just for one evening). We will be patiently waiting next May, hoping they stop by again!"
Aug 25 - Gloria Ulrich north of Spruce Grove - "saw a female ruby throated on our Scarlet Runners. Have enjoyed hummers all summer."
Michael Wiens - 4 sightings at his place in Edmonton since Aug 16 even though he wasn't around much to see them. He also had lots of hummers at his cabin this year, more than last, and then 13-15 males in his yard for about a week before they started heading south.
Aug 25 - West of Stony Plain - Lori Groat - "I have had 2 females and 1 male regularly all summer. On August 23rd I had 2, the 24th I saw only 1."
Aug 25 - Lewis Estates, Edmonton - Randy Townsend - "I had a hummer (1 possibly 2) coming to my feed numerous times the first week of August. Haven't seem it since the 8th."
Aug 15 - Jan Caissey - land 12 km south of Sangudo - 3 hummers
Aug 20 - Acreage north of Namao - Shelley Petch - "We have 2 hummingbirds still frequenting our feeders."
Aug 19 - Wabamun Lake, Gino Gadowsky - "We see them regularly at our feeders at Wabamun Lake."
Aug 19 - St. Albert, Shauna Legg - "We have hummingbirds every year. They feed regularly at

7 pm

. We live in St Albert. We have plants that attract them and a feeder. We boil our own sugar water and replace it weekly."
Aug 16 - Edmonton, Rio Terrace, Wayne & Dianne Oakes - 2 hummers in the yard.
Aug 16 - Edmonton, La Perle -Paul and Louise van Harte - female hummer in yard.
Aug 16 - Mayatan Lake (west of Stony Plain) - 5 hummers - Jan and Dave's cabin - have had hummers all summer.
Aug 9 - St. Albert, Broadview Crescent - Brian Grant - 2 Ruby-throats in the yard at flowers week of August 9
Winterburn Road - Jim Bond - around July 10
Rio Terrace - week of June 14
June 2 - Just outside SW Edmonton. Near Enoch Reserve - Anthony & Jane
St. Albert & Lac La Nonne - May - Sue & Trevor Gent
St. Albert - week of May 24 - Leo Vilks
St. Albert - May 16 - 1 hummer - Mary Richardson
Cold Lake - May 31 - Bill & Janet Parker - 2 hummers
St. Albert - May 29 - Tina
May 24 - Edmonton (Cumberland - 133 St & 151 Ave (Jim) - hummer
Spruce Grove - May 24
Edmonton (Secord) - May 23 (3 hummers)
Morinville - May 23 (2 or 3 females)
Devon - May 22
Edmonton (Summerside) - May 20 - Careen - 1 hummer visiting feeder
Sherwood Park - May 20
Ardrossan - May 18
Devonian Botanic Garden -May 14
Musidora - May 12
2014 - End of Season Sightings
August 29- Customers in Glenora reported that they have seen a hummingbird for the first time in their backyard. They planted flowers specifically to attract them, and hope to see more next year!
August 10 & 26- Hummingbirds sighted on a Honeysuckle in the Kenilworth neighbourhood of Edmonton.
August 21, 2014
We live in the Wedgewood area in SW Edmonton and every year we have seen a hummingbird in our area maybe three or four times a year and often wondered if there was just the one... This year we have been seeing the hummingbird almost everyday and wondered why we were seeing it so often... Our answer came on Monday August as we were having supper on the patio and we saw not just one but four hummingbirds !!!!! - Veteran98
From staff at Wild Birds Unlimited, customers have reported sightings through the summer in Riverbend, Glenora, the Highlands, and the Lake District.
Mayatan Lake, near Carvel - We have seen hummers at the cabin since we put the feeder out earlier this summer, as many as 10. So many that we put 2 more feeders out at the side and front of the cabin so they wouldn't fight so much and had more chance to feed. Dave put the feeder out one day and a hummer came up and fed for a minute while he was still holding it! No kidding. Jan and Dave
Dani Ardron I've had at least two females and one male out here on our farm near Mayerthorpe for most of the summer. For the past couple of weeks, they've been very territorial about the feeders and there has been quite a bit of jousting for the best perch. Good thing I have two feeders ... invariably, if one loses the fight, then I can find it on the other feeder at the other side of the house almost immediately. Love having the birds here. (From WBU Edmonton Facebook)
Ann Stampfer I live near Camrose. We have had a male, female and a juvenile for about a month now. I'm torn between wanting them to stay and hoping they don't stay too long (3 Celsius predicted for Fridays low temp) Very active about 3 to 5 each afternoon. Blue delphiniums are their food of choice and there is now very little left. Have also finally started on the 'Wendys Wish' salvia which I bought specially for them. (From WBU Edmonton Facebook).
Millwoods - From Michael Wiens, author of Jewel of the North. We had 4 sightings over the last week here in Edmonton. We have been out in the country so much, and I don't always watch the feeders here so I am assuming we had many more that I just didn't see. We still had about 12 - 15 as of Sunday in the country.... I believe we are now about 80-90% complete in the Alberta Migration.
Aug 19, 2014
Capilano area - We live in the east end of Edmonton – Capilano area and are one block in from the river valley. We have lived there for 16 years and this is the first year we have seen a ruby throated hummingbird. I put up a feeder once I saw him and he/she did return twice to the feeder, but that was about a week and a half ago. Although brief, it was fabulous to see one in our yard! - Laurie Lafrance, Edmonton
We had one in our back yard in Lewis Estates (West Edmonton) last Wednesday (the 14th). So nice! - Gail Tooth, Edmonton
Six hummingbirds still here as of yesterday....10 kms north of Smoky Lake. Last year one female and a juvenile here til Sept 1st so keeping a close eye on them. - Sheila Taylor, Wild Deer Crossing, Smoky Lake
Yes yes! First time yesterday enjoying Monarda blossoms in my garden. Quickly went outdoors and sat quietly to watch the bird - who left the blossoms to briefly fly in my direction. Just saying hello I guess. - Marlene in Sherbrooke, Edmonton
For years I've done everything I could to invite hummingbirds into my backyard. This year it finally happened! I've had one several times coming to my scarlet runner beans! Whoot, whoot! - Debra Keroack
Hummingbird sighting - Sat. Aug 16 - Lacombe Park area home - St. Albert - Carla B.
We have one or possibly more hummingbirds visiting our yard, usually around 5pm off and on through to about 7pm, most evenings lately here in Fort Saskatchewan. - Regards, Vicki
We had a hummingbird in our flower bed last week. We live in Lewis Estates. Haven't seen this week unfortunately. Lots of other birds at our feeders however. - Randy, Edmonton
2013 - End of Season Sightings
Westmount, Edmonton- Sept 4-6- juvenile hummiingbird spotted three days in a row feeding on Bee Balm.
1Spruce Grove - We finally got some hummingbirds in our yard in Spruce Grove on August 26th. The last time we saw one was on August 8th.-Ian Befus
Wild Deer Crossing, Smoky Lake - Sep 1 - "Our last two juvenile female hummingbirds left Smoky Lake area Sept 1st evening.They were at feeders filling up...and of course, chasing each other off the territorial feeder area all afternoon. The next morning at breakfast, alas, there were no hummers to greet me at breakfast. The males left a week earlier." - Sheila Taylor
Waskatenau - Sep 1 - "Just letting you know that our last hummingbird left on September 1st. It was our busiest year yet, with sightings topping out at 11 per minute over a span of 5 days from August 6 - 11. It slowly tapered down but we even managed a Rufous for about 5 days as well. She stuck around and pushed all the others around during her stay." Michael Wiens, Author: Jewel of the North, www.therubythroat.com North, www.therubythroat.com, email: therubythroat@shaw.ca.
Northwest Edmonton - Oxford area - August 27 - "While sitting outside we saw a hummingbird visit one of our hanging baskets for about 5 minutes. It was seen twice that same week." - Gord Hamilton.
2013 - Mid-Season Sightings
Lac Ste. Anne - Aug 22 - Rufous Hummingbirds – "Every year we have at least one family of Rufus hummingbirds which regularly feed at our feeding station at our cabin on the south shore of Lac Ste. Anne, in the Summer Village of West Cove. There are at least five, and sometimes as many as eight birds. We enjoy watching them immensely." - Ken & Florence BorchEdmonton - Secord area - reported Aug 23 - "We are thrilled that this hummingbird has found our backyard feeder in Secord, Edmonton!" Hank and Ardith Peetsma.Smoky Lake - Aug 22 - "Three hummingbirds still feeding in Smoky Lake...1 1/2 hrs NE of Edmonton... this morning. They usually leave our area about

Aug 28

so keeping an eye on them to mark my calendar." Sheila Taylor, Wild Deer Crossing, Smoky Lake.
University area, Edmonton - Aug 19 - "I saw a hummingbird in our backyard but it flew away before I could quietly tell my husband. And later we spoke with a neighbor that also saw one." Kathryn Vanzella
Photo courtesy of Hank and Ardith Peetsma
Edmonton, 106 Ave & 126 St- August 15
West Edmonton - Aug 18 - "So on Sunday morning when we were eating our breakfast out on the deck, I saw my first hummingbird in my yard, let alone in the city overall!!! This is in the west end of Edmonton. This one flew over our heads and went to investigate our sweet peas, looking like what I thought was an enlarged dragon fly, but when it briefly landed on the flower stems it then was obviously a hummingbird, female I think. Shouted for joy and of course it took off!!! But it was really cool..." Sherrie Banks, West Edmonton.
Outside St. Albert - Aug 18 - "Hummingbirds have been seen around our Morning Glories in Summerbrook Estates just outside of St. Albert in the last week." - Pat Glenn
Winterburn - throughout August - "In the Winterburn area. Few times over the last 2 or 3 weeks there have been hummingbirds fly through the yard. They look around but do not stop at the feeders. And never long enough to get a picture. But I keep hoping." - Jim Bond.
Morinville - Summer - Diane Barrett reports that four hummers have been frequent visitors to their feeders and to the Maltese Cross growing from seed in their yard.
West Edmonton (75 Ave and 158 St) - Aug 12 - "We have had three sightings in the past 10 days of a green hummingbird in our back yard. Regards, Julie M."
Glory Hills, 10 km north of Stony Plain - Summer - "We have a number of resident humming birds around our acreage. They were still around yesterday but likely leaving soon." - Della Clish
Callingwood area, West Edmonton - July. Customer saw a hummingbird in their neighbour's yard.
Highlands area, Edmonton - July. Customer reported to us they had hummingbirds in their yard.
Calling Lake - July(?) - "I saw a hummingbird at Calling Lake which is about 70km north of Athabaska." - Pat Glenn
NE Edmonton, August 21- a customer saw a hummingbird for the first time ever. She thought hummingbirds in Edmonton was an urban myth, but now has a feeder out!
Stony Plain - All summer - Lori Groat started to see Hummingbirds in her yard in June and they are seeing males, females and juveniles. One day she and her grandkids were on the deck eating ice cream when two female hummers started fighting, which went on for a long time, right around them! She expects they will start to leave in the next week or so.