Past Events
Owl Be Home For Christmas
Nov 15, 2014
Over 200 people came to the store to visit The Colonel, a Barred Owl, along with Dr. Gord Court of Alberta Environment and Sustainable Resource Development. Customers contributed over $1100 dollars to the Christmas Bureau, and a portion of sales from the day go to the Alberta Conservation Association's Peregrine Falcon program. Thanks for a great day everybody, and especially to Gord Court who always does such a great job with his story telling about owls and the natural world. Here is a small collection of photos from the day.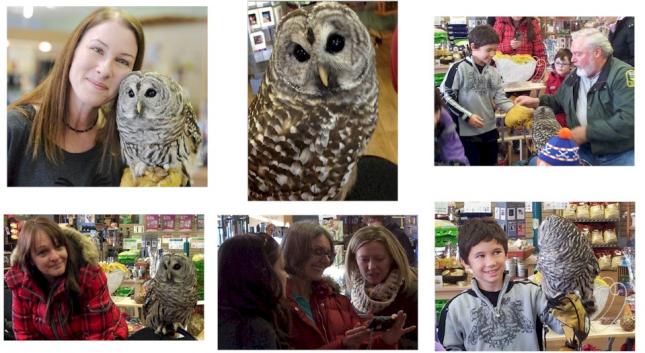 Experience Bird Banding with Janos Kovacs
Strathcona Science Park - July 20, 2014
It was an early Sunday morning for 17 of us from Wild Birds Unlimited as we met up with Janos Kovacs and 3 other volunteers working capturing, banding, and releasing a number of warblers, sparrows and other passerines (perching birds). They were caught in mist nets, banded, key information about their age, sex, and stage noted, and released back to the wild. Information collected is first sent to the Canadian Wildlife Service, and then passed on to US Fish and Wildlife where it is collected in The North American Bird Banding Program database which holds over 70 million banding records and over 3 million encounters dating from 1908. The enthusiastic group of WBU observers were treated to close up looks at the birds. Photos below are courtesy of Nancy Newman.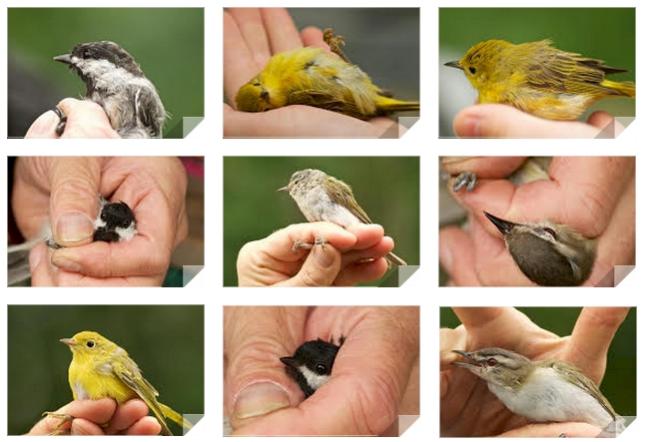 Top row: Black-capped Chickadee, Yellow Warbler, Yellow Warbler
Middle Row: Black-capped Chickadee, Yellow Warbler, Red-eyed Vireo
Bottom Row: Yellow Warbler, Black-capped Chickadee, Red-eyed Vireo biting the hand that banded it!
Beginner Bird Walk

At Beaumaris Lake

Sunday, June 8, 2014 - 9:30 to 11:30 am

Vicki Trombley led 22 of us on a bird walk at Beaumaris Lake in Edmonton. It was a beautiful Sunday morning in June. We saw 13 species of birds - Red-winged Blackbirds, a Merlin, Canada Geese, 3 Chipping Sparrows, House Finches, Grackles, Bohemian Waxwings, a Common Tern, Brewers Blackbirds, House Sparrows, numerous Red-necked Grebes (1 pair was busy building a floating nest), and Black-billed Gulls. There was lots of socializing as we sauntered around the lake together. A good time was had by all.

Bluebird Trail Driving Tour

With Jack Park (WBU staff member)

Sunday May 25, 2014

The weather cooperated nicely as fifteen people traveled southeast of Sherwood Park and had a close look at two nesting pairs of Mountain Bluebirds. We concluded the event with a very enjoyable lunch together at Country Boyz restaurant on Wye Road near the trail. If you are interested in traveling the trail on your own to see Bluebirds, download the map and instructions here.

April 19, 2014 - Live Owl in the Store

Gord Court brought a rescued Barred Owl into the store for the day and treated over 200 people to an up close and personal time with "The Colonel."
March 15, 2014 - Build A Bird Feeder Event - John Janzen Nature Centre
Dave, from the store, led a group of 22 children and adults in a Saturday afternoon session where the children built and coloured a bird feeder/Robin's Roost, and participated in a "Bird Olympics" where the children compared their "wingspan" with that of a Pelican, and how fast they could flap their wings compared to a Hummingbird.
March 11, 2014 - A Hummer's Summer in Alberta - Central Lions Recreation Centre
Michael Wiens, author of Jewel of the North, once again entertained and enlightened us about his passion - Hummingbirds. Over 40 enthusiastic people were in attendance as Michael told stories and showed pictures of his experiences and learnings about these food frenzied birds during their time in Alberta.
February 11, 2014 - Caring for Injured Birds and Wildlife: Stories from Animal Rehab
Carly Lynch, Education Coordinator for the Wildlife Rehabilitation Society of Edmonton, spoke at the store about the work of the Society in rehabilitating wildlife from around the Edmonton area, along with tips on what to do if you find injured animals.
May 26, 2013-Outing to Jack Park's Bluebird Trail
About 20 people gathered to make the trek out past Sherwood Park to see the Bluebird trail Jack has maintained for over 30 years. Jack gave us a brief introduction, then on to the Bluebird boxes!
.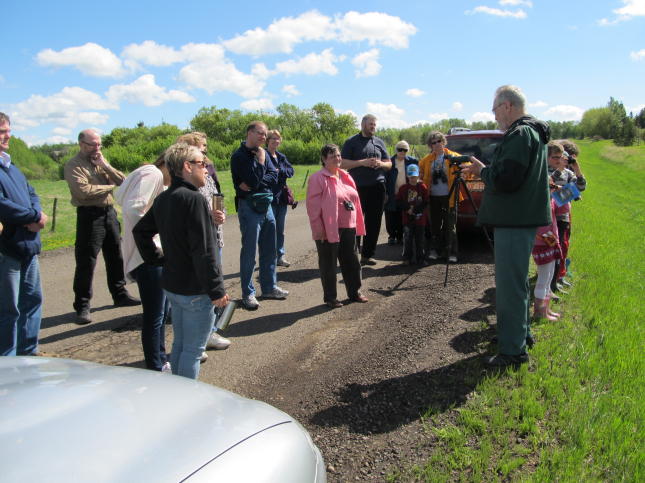 We met with disappointment at first, as the Bluebirds had abandoned the first nest, probably due to the cold, driving rain the previous two days. The eggs were cold, the nest was wet.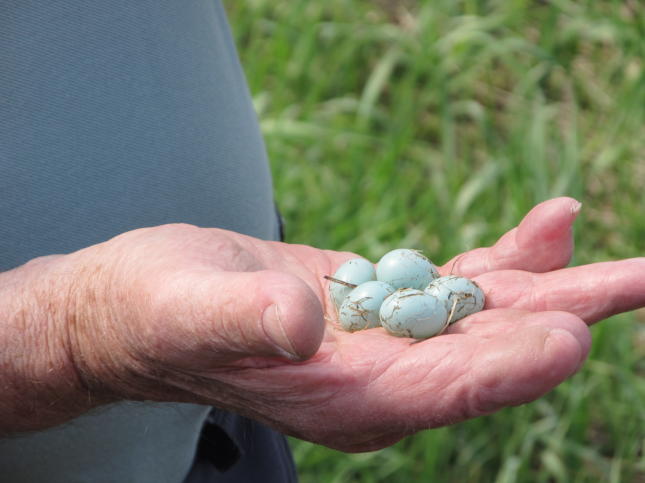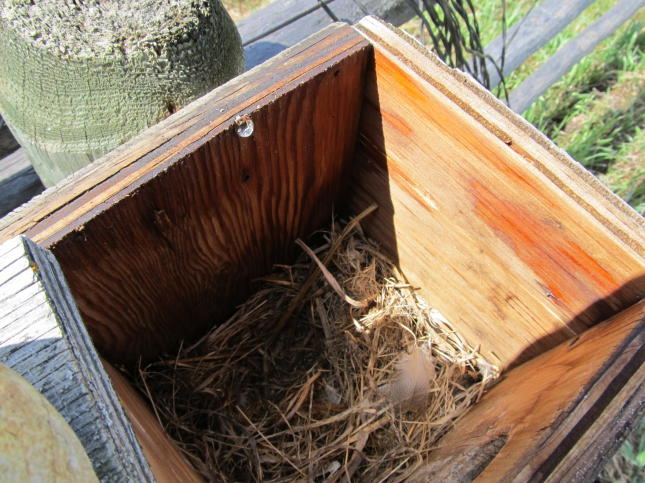 We went on to a chickadee nest with 9 eggs! The mother bird watched Jack from nearby as he opened the box, then we watched her return. Note that Jack is a licensed bird-bander and he approached this nest as the rest of us stood back, since Chickadees do not tolerate interference as well as Bluebirds do. Jack told us there is a hefty fine for handling wild birds unless you are appoved to do so. The mother Chickadee is on the wire in the picture below, ready to return to the nest.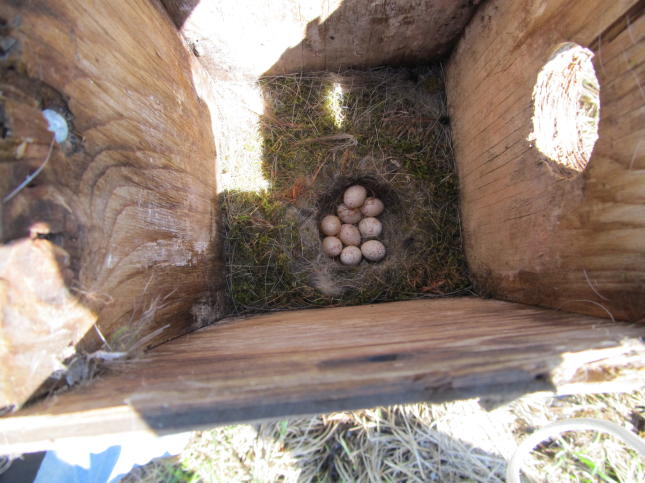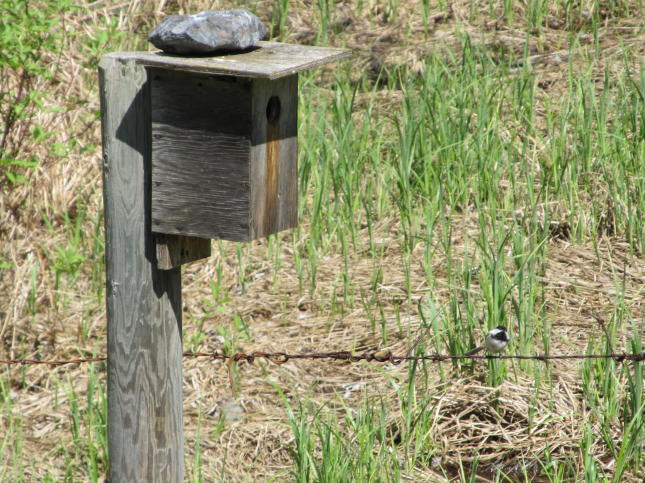 On to another nesting box. Jack carefully checks it...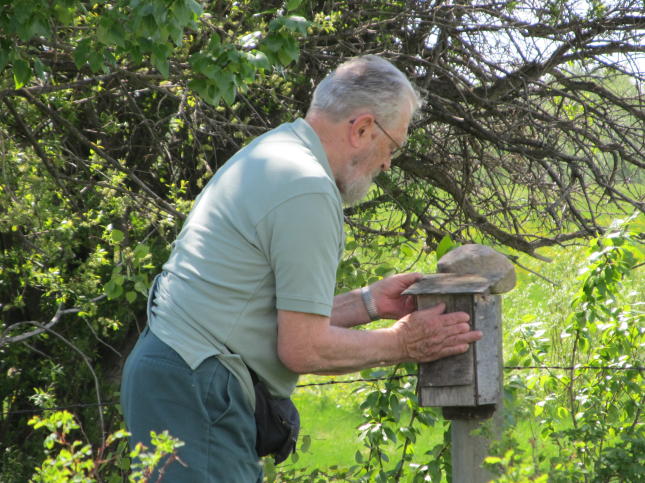 Finally we found some Mountain Bluebirds! Jack bands these birds, and he picked up the female to show us her plumage. Here she has her wing outstretched.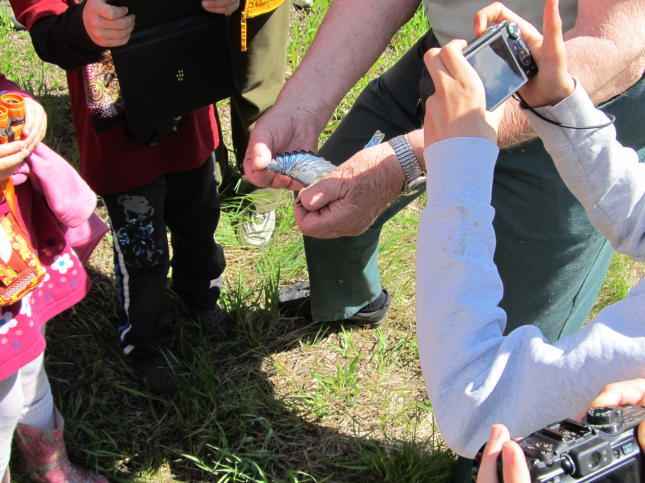 Here she is in a tree.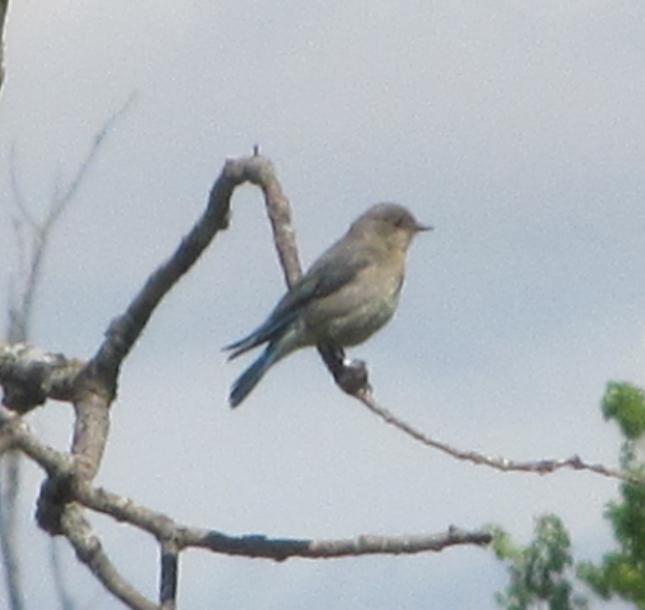 Then we enjoyed seeing the male Bluebirds as they swooped around near their nests. What a beautiful sight!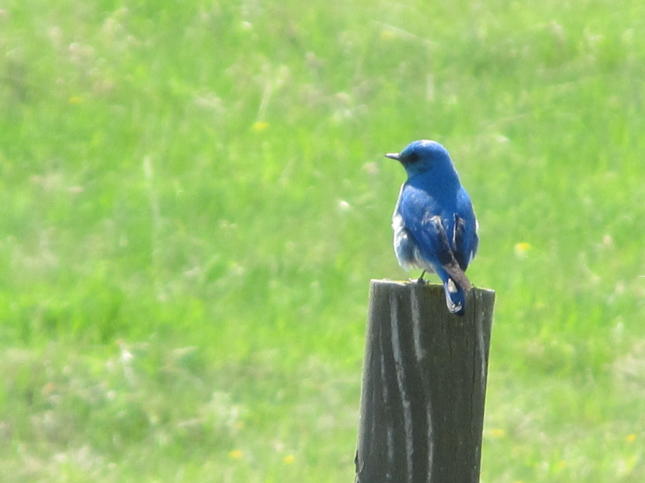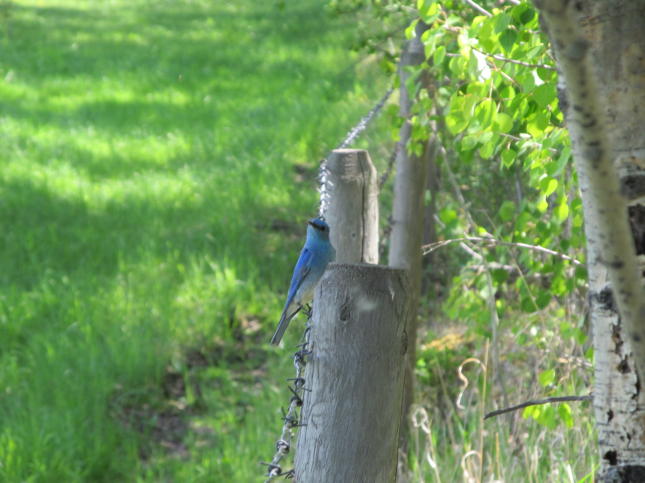 See you later!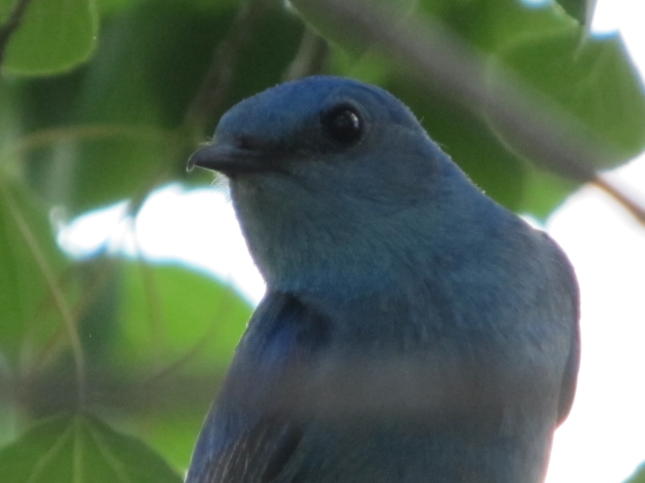 Thanks to Jack for sharing his knowledge with us on a most enjoyable day with the Mountain Bluebirds!

March 30, 2013- We were thrilled to have over 200 people enjoy an encounter with "The Colonel," a female Barred Owl, courtesy of Gord Court. We have free Great Grey Owl posters from Alberta Fish and Wildlife in the store. Dr. Court is planning to bring a Peregrine Falcon to the store later in June. Watch your email newsletter for details. Thankyou Gord!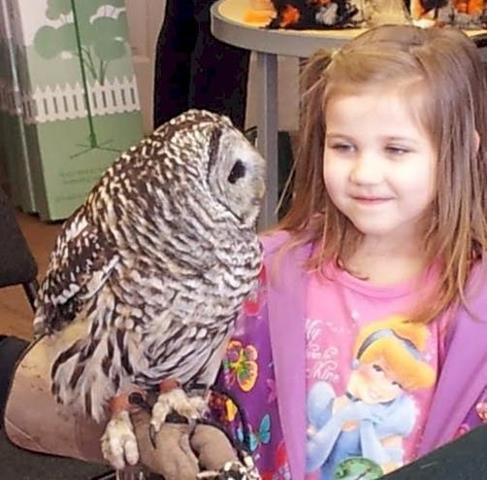 February 2013-we enjoyed a talk from author and local hummingbird expert, Michael Wiens on how to bring more hummingbirds into your yard.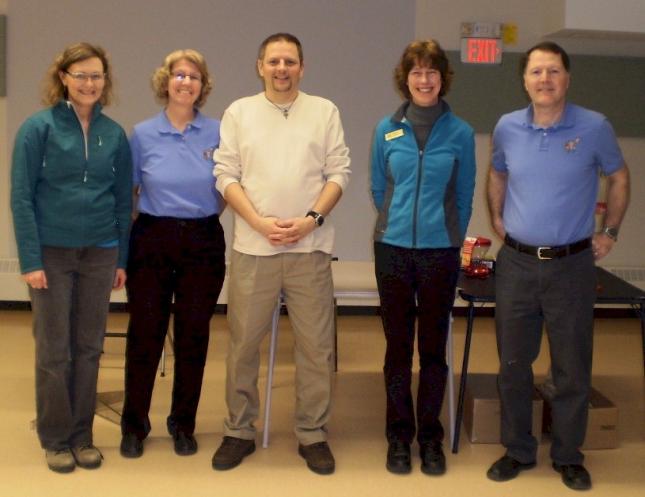 Free Admission Day at John Janzen Nature Centre
September 30, 2012
We were invited to host a table at this wonderful day. Lots of families came by to find out more about bird feeding.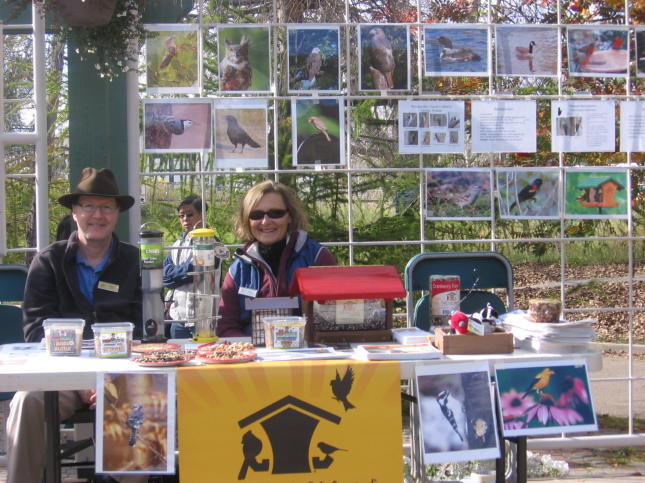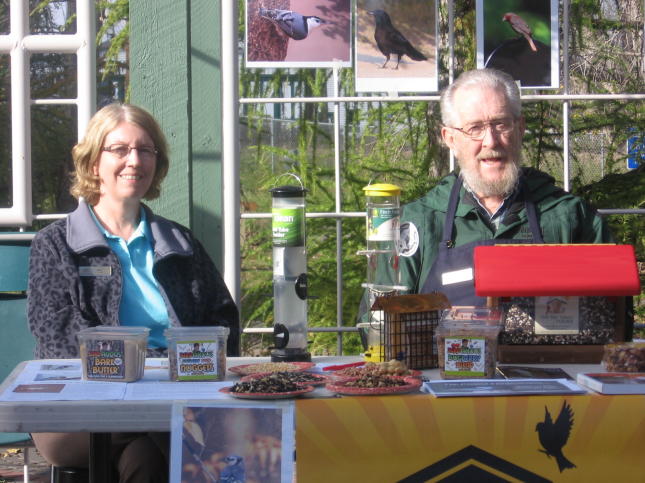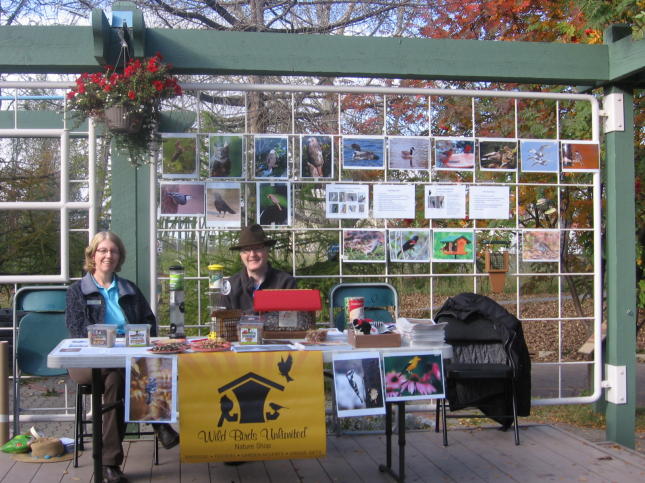 Edmonton Science Outreach Network
Family Nature Nights


On August 23, 2012
families enjoyed an evening outdoors in the Whitemud Ravine learning about birds and doing fun activities such as:
trying to stare like an owl (not as easy as it looks)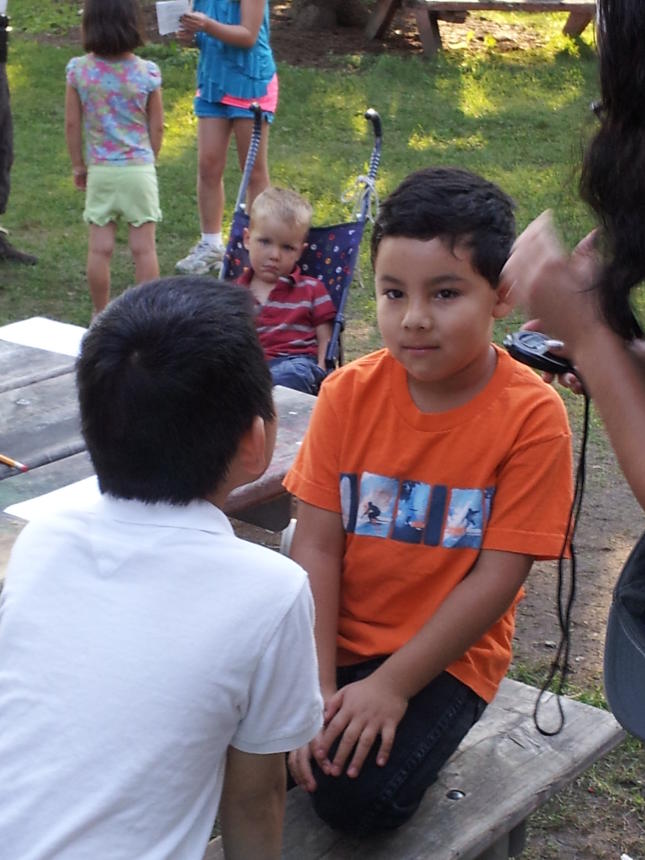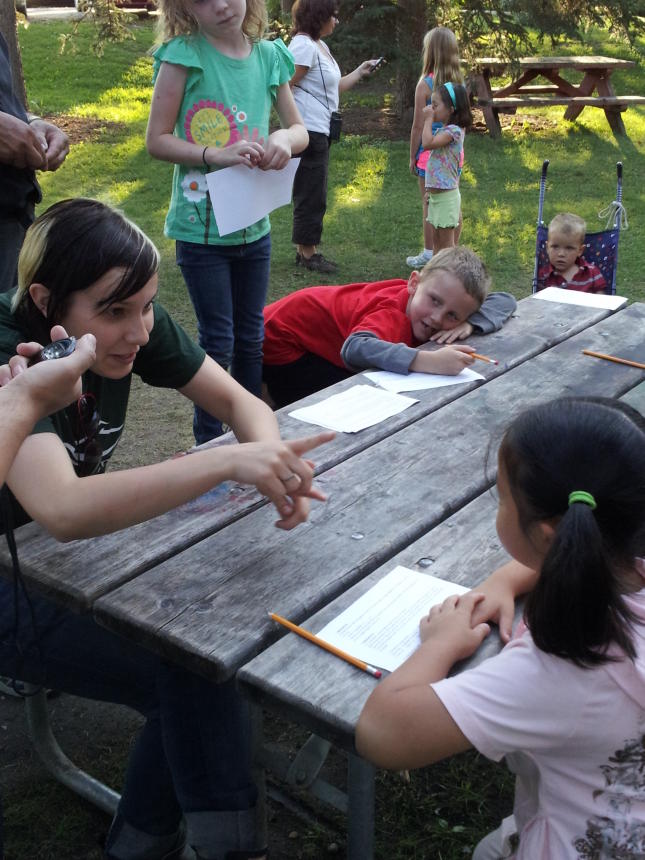 flapping our wings as fast as hummingbirds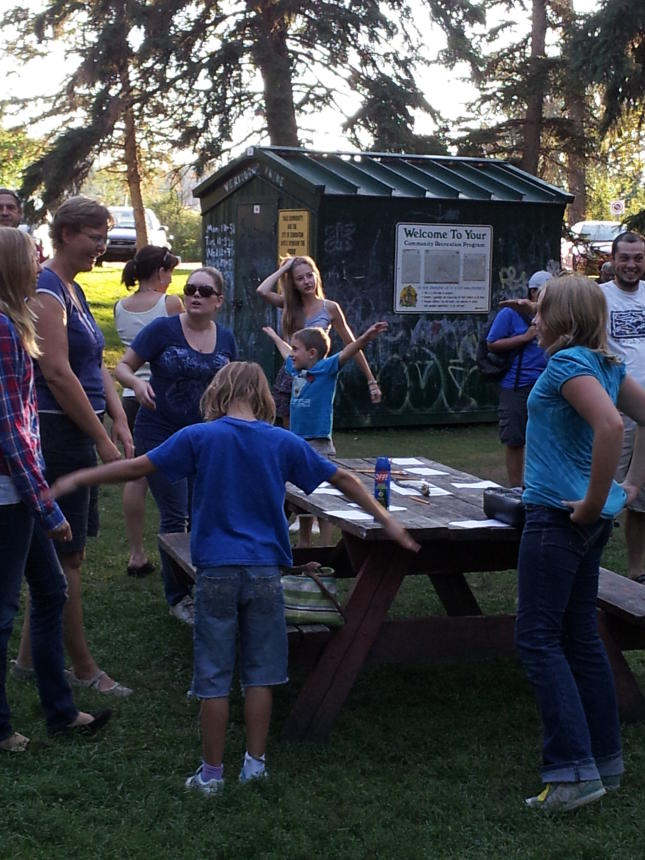 seeing if our wingspans are as big as a pelican's (no!)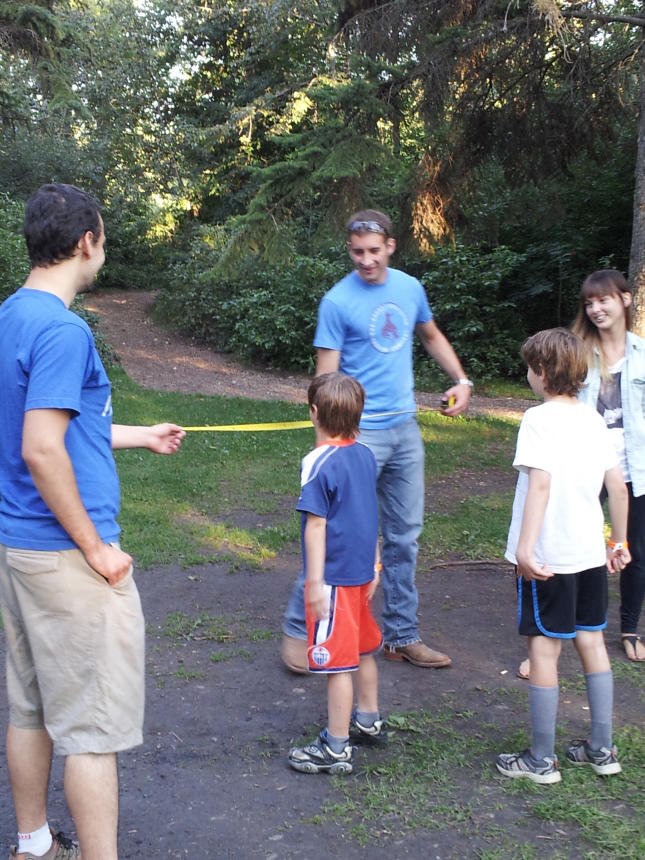 We made bird feeders to take home and even saw a Pileated Woodpecker. It was a fun time for everyone. Thanks ESON for organizing this and inviting Wild Birds Unllimited to lead it. For a slideshow of more pictures of this event, courtesy of Jana Sneep, please go to http://www.youtube.com/watch?v=_-y7gODK31Y