What birds have you seen?
Please send us your pictures and we will post them online. Please indicate if you want us to include your name or not.
September 29, 2016-Wayne Oakes says: "I sat down to have a look at the photos I took of the mixed groups of southward travellers. I say mixed groups as I noted that these groups were not just Sandhill Cranes. Each group contained a mix of Snow Geese that were flying in proper formation with the Cranes, except when they merged with other groups which created some large swarms before they formed up and continued south in typical formation. While I haven't seen a great number of migratory Sandhill Crane flights, this is the first time I've seen a mix of species." The picture was taken from Edmonton west end. The cranes are the birds on the left - the ones with feet that look like egg betters. The Snow Geese have the telltale dark wing tips seen from below. Thanks for sharing, Wayne.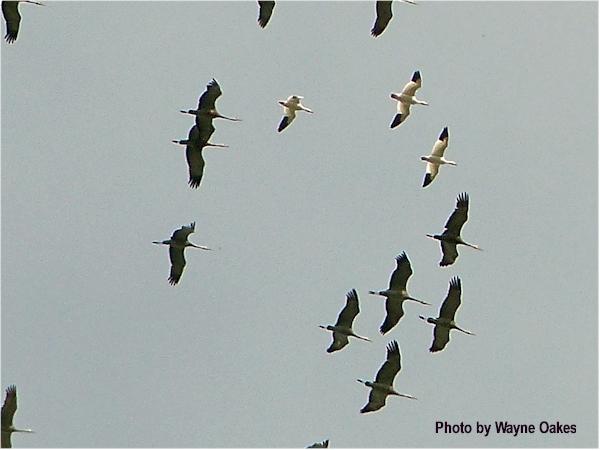 Nov 5, 2016
Wayne Oakes reported: While going through my photos of Whitemud Park from Aug 17, 2016 I came upon one that caused me to pause and reconsider what I initially thought was a juvenile Spotted Sandpiper but which is a Solitary Sandpiper on reconsideration.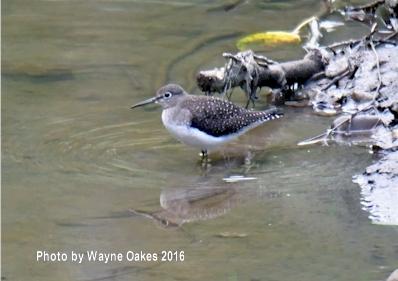 While down at Whitemud Creek today (Nov 5, 2016) I saw a few Warblers still around and for the first time since April I saw and photographed not one but three male Black-backed Woodpeckers.
July 20, 2014- Brenda Hagen writes, "I was watching my hummingbird feeder from the kitchen window Saturday morning (rural Stony Plain area) when much to my surprise a male Rufous Hummingbird sat down for a good feed. I have several Ruby Throated that are regulars but have never seen this little guy before. I am thrilled, he is back today ! He sounds like a weed wacker, you can hear him coming from quite a distance. Beautiful orange throat when the light hits it just so."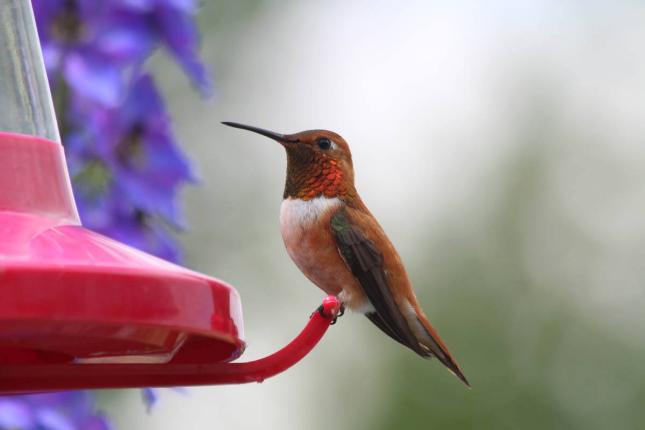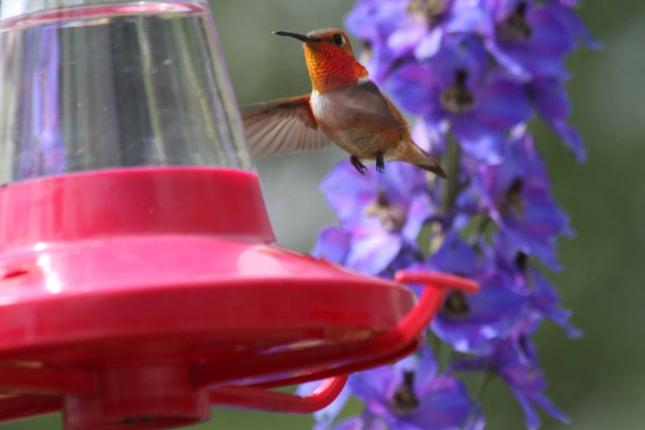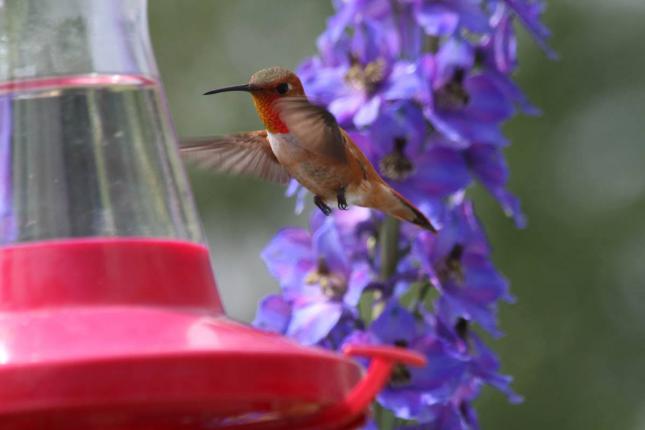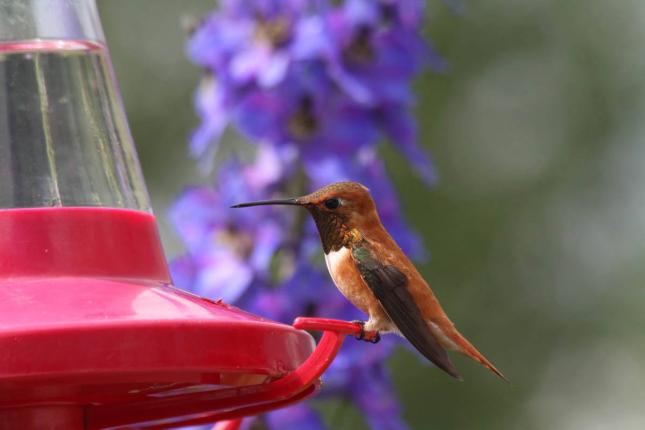 April 24, 2014-Purple Finches stop by at Bob Borreson's.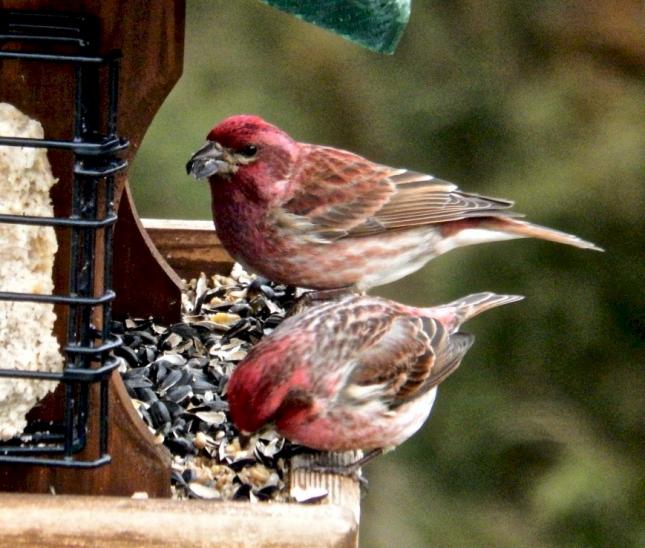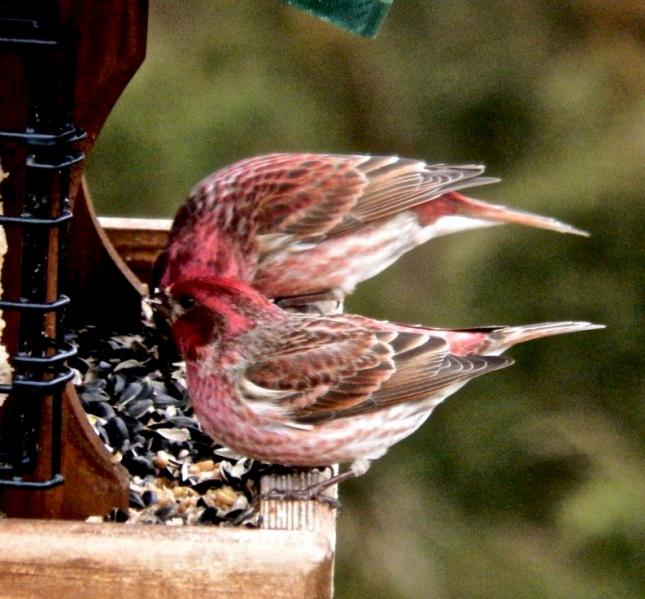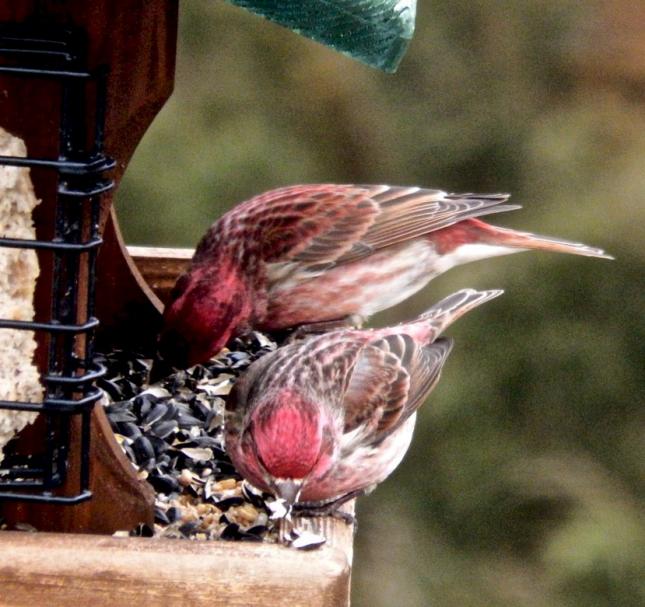 February 2014- Thanks to Monikah Wiseman for the following fun pictures.
This Black-capped Chickadee can't wait for the feeder to be filled, he's helping himself.
A happy looking White-breasted Nuthatch, upside down as usual, eating bark butter.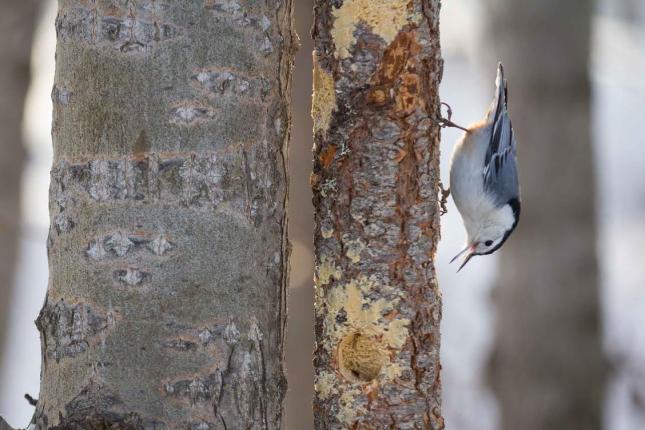 Do rabbits like corn? Yes!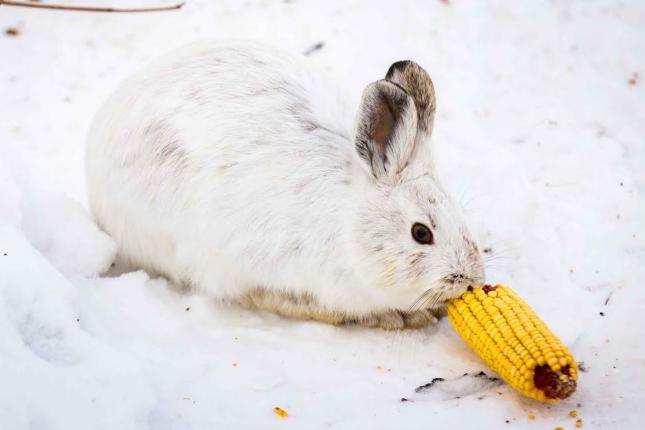 "What are you looking at?" says this male Pileated Woodpecker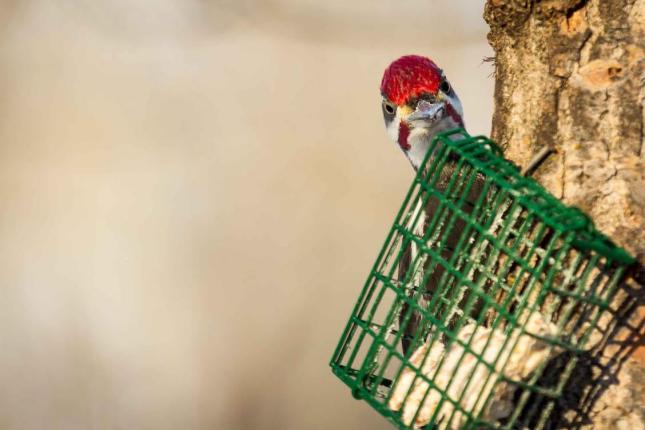 November 2013- Merv Bredy saw this very nice Varied Thrush in the front yard in the Brookside area of Edmonton in middle of November. They are uncommon here, more common on the coast of BC. Although most years a few are counted here on the Christmas Bird Count.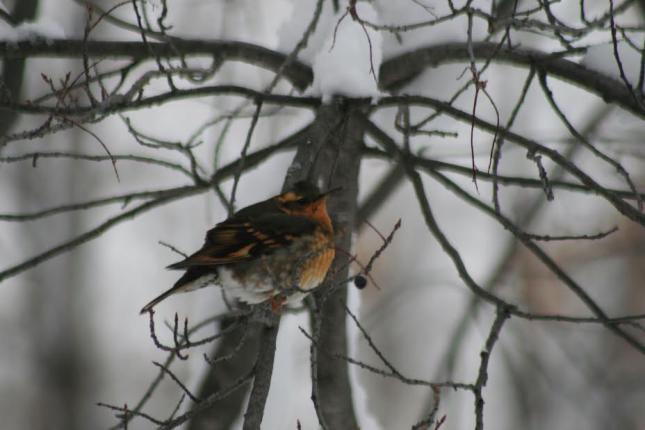 November 26, 2013- Clyde Cornfield got a great shot in Whitemud Park of an elusive bird, the Boreal Chickadee.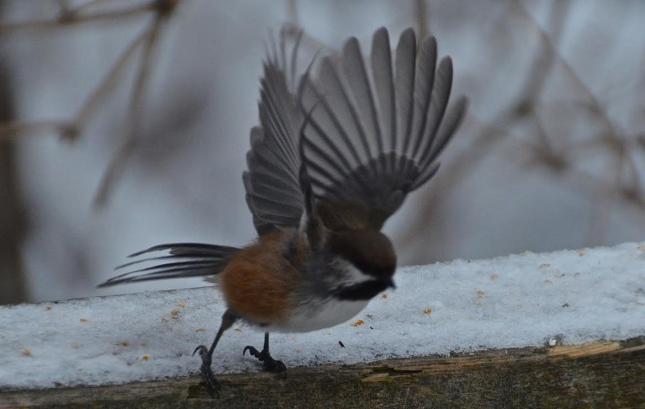 November 26, 2013- Michael Butler caught this Northern Flicker enjoying a drink from his new heated bird bath near Fort SK.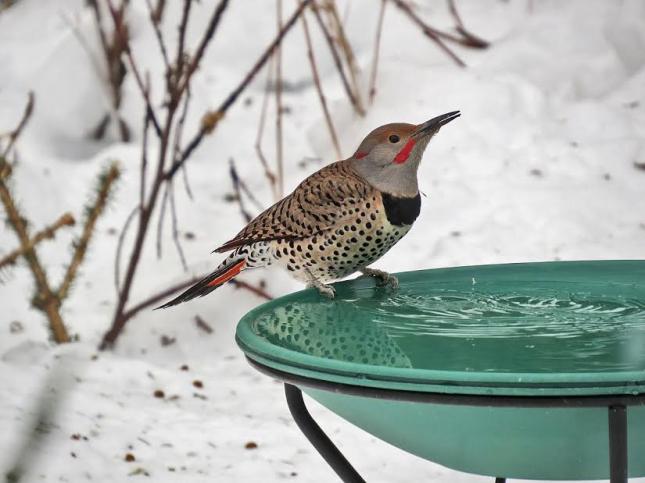 November 2013 From Diane Cherwonka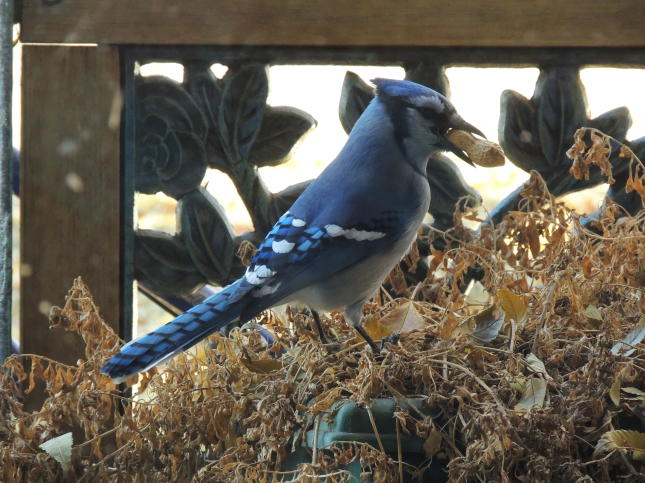 November 2013 From Zac Peetsma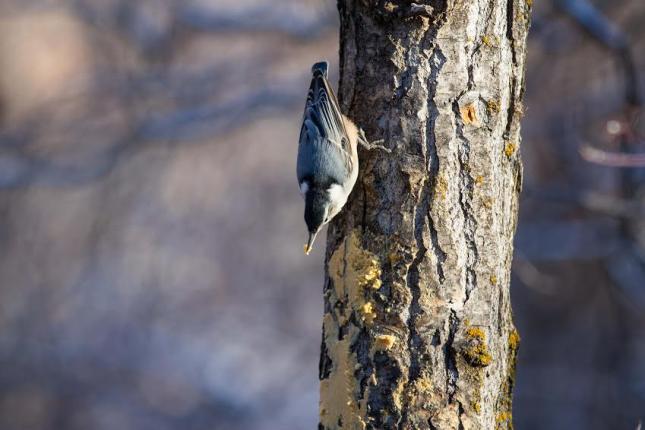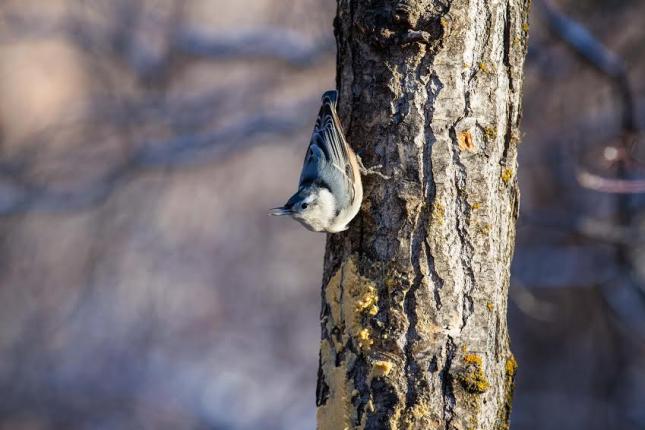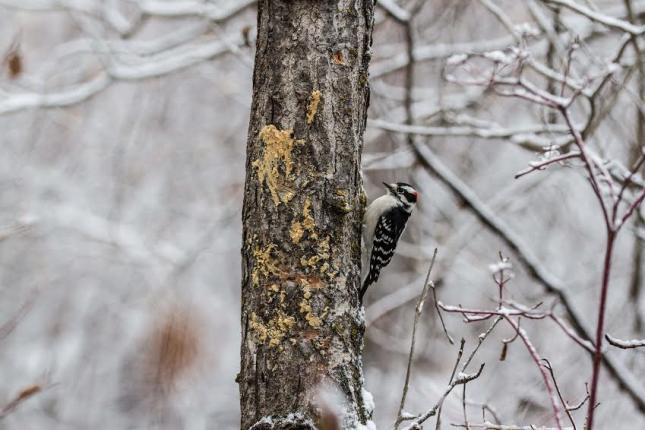 November 2013 From Hank and Ardith in Secord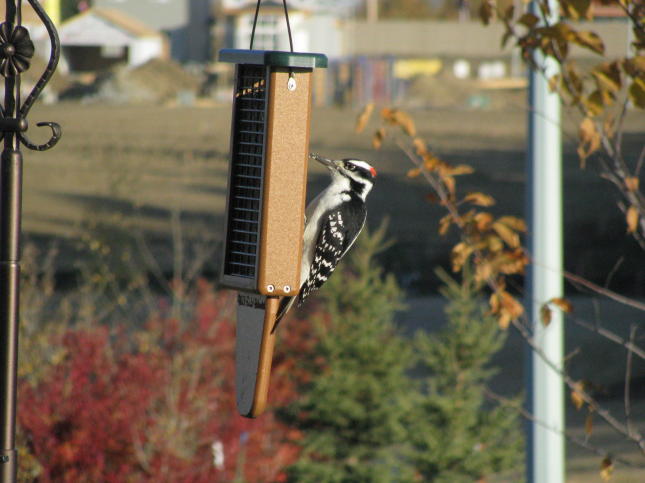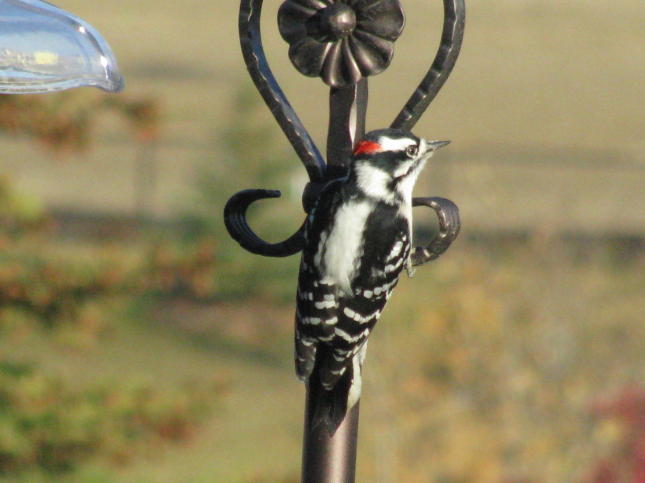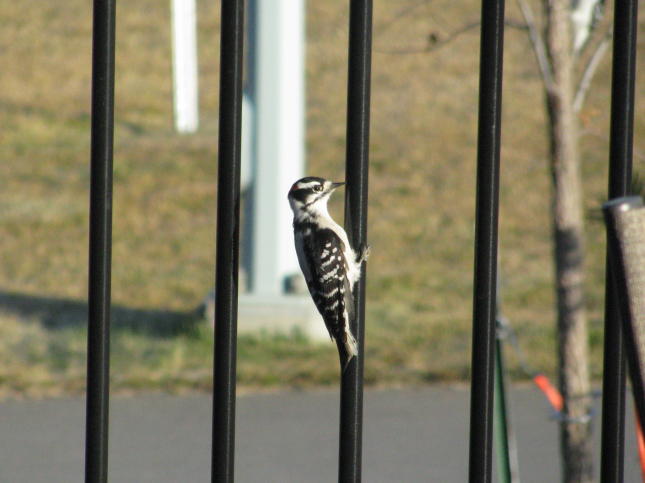 October 30, 2013 - From Monikah Wiseman: Our house recently added a platform feeder (that was bought from your shop) to our set and the birds have loved it. Yesterday we had a pileated woodpecker stop by and visit!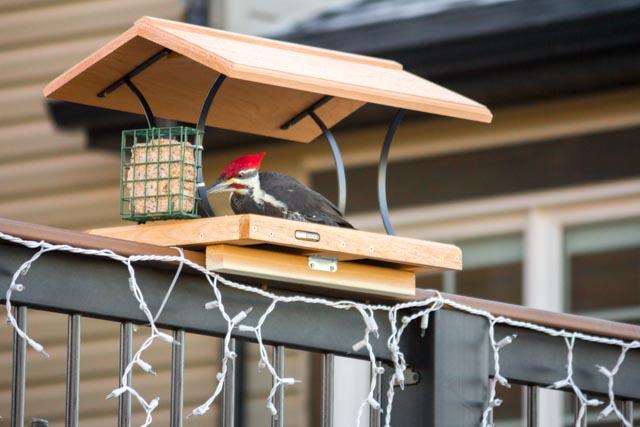 October 29, 2013 - Zac Peetsma had this sweet Dark-eyed Junco visiting his yard.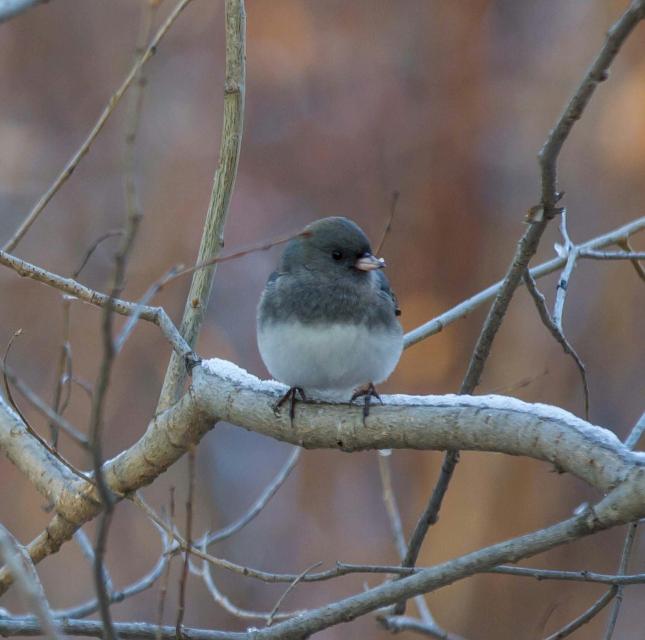 October 2013 - A White-breasted Nuthatch gets a band during a recent bird-banding expedition. Photo: Diane Cherwonka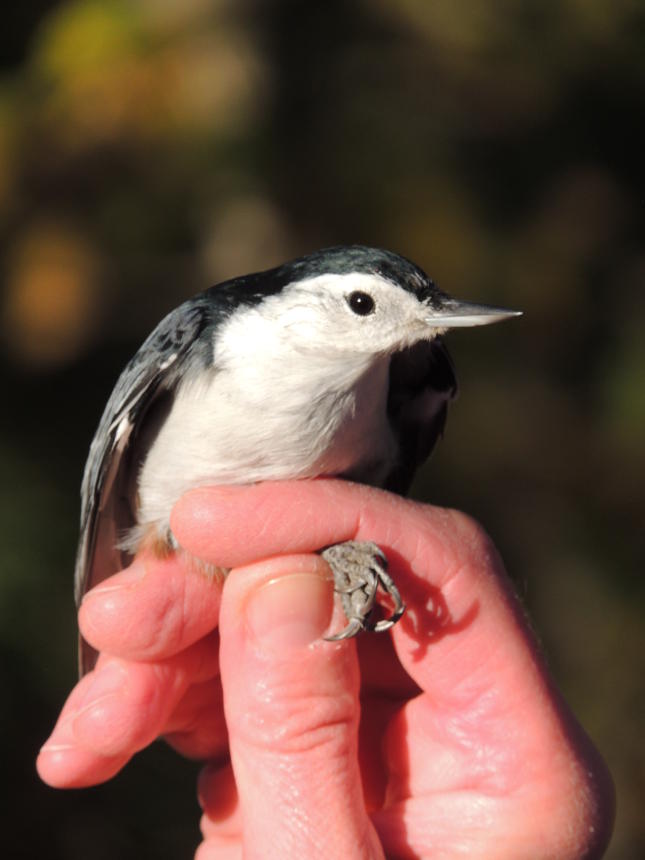 September 26, 2013 -"2 months ago I saw this 'white magpie' along with 5 or 6 regular black and white magpies... saw it again yesterday so ran and got my camera." --Kathy Korner
Leucistic Magpie found on bike path south of 111Ave and east of 119St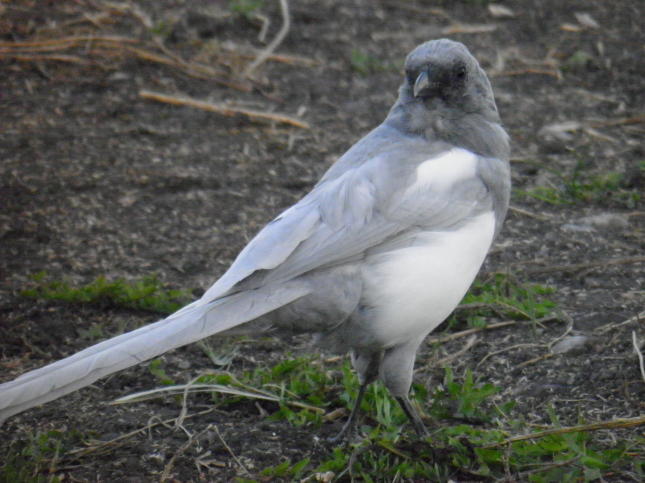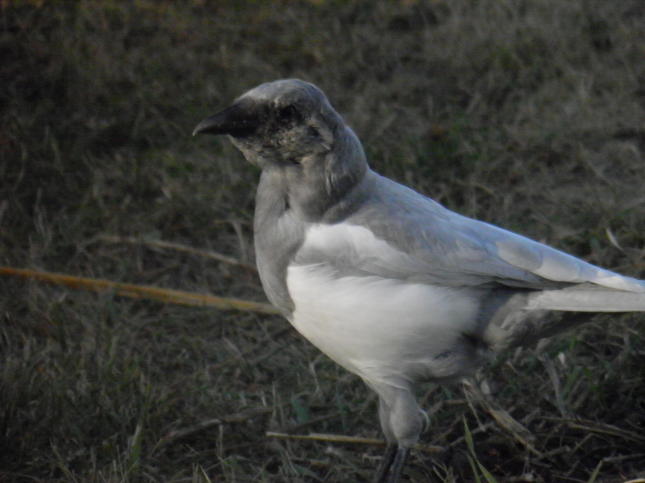 This picture was taken by Tim Miller, September 24 2013, on our acreage six and a half miles west of Morinville. Note the wood chips on the ground. Margaret Miller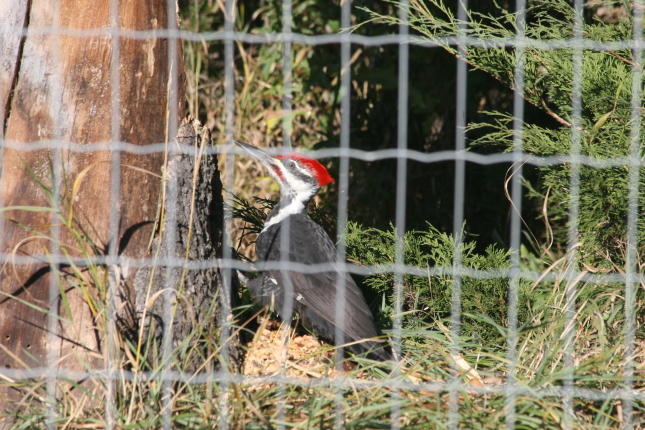 Castledowns, August 5, 2013- Double-crested Cormorants. These expert divers lack the ability to waterproof their feathers, which reduces their bouyancy and helps them stay under water for long dives. They are often seen with their wings partially outspread, drying their feathers.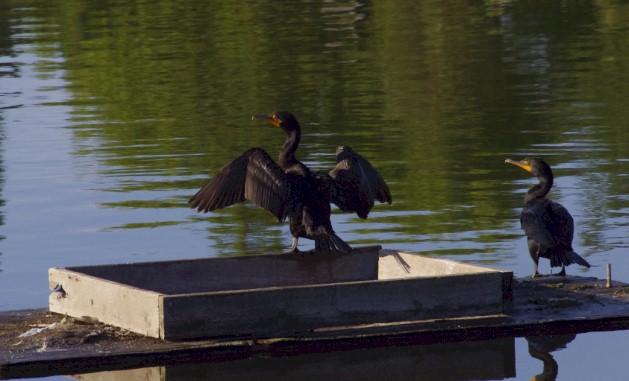 July 25, 2013-Two close bald eagle siblings. Photo by Dale Scott dalerscott@shaw.ca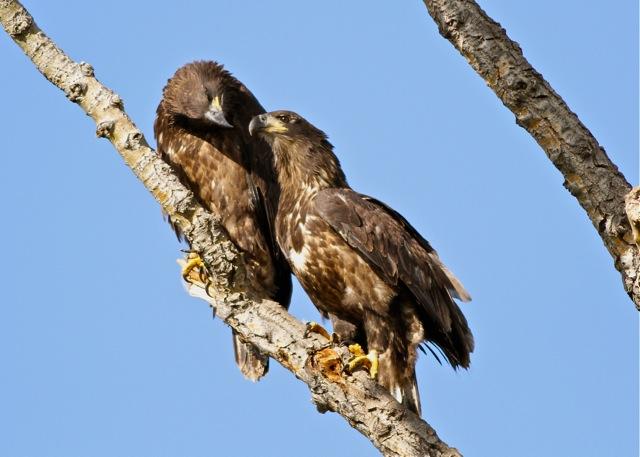 July 25, 2013-Chelsey Isbister took this photo of a baby Robin in Gibbons. She writes, "Babies flew out of the nest today. Picked him up off the ground. Didn't seem to mind. There were 4 of them that flew the coop today."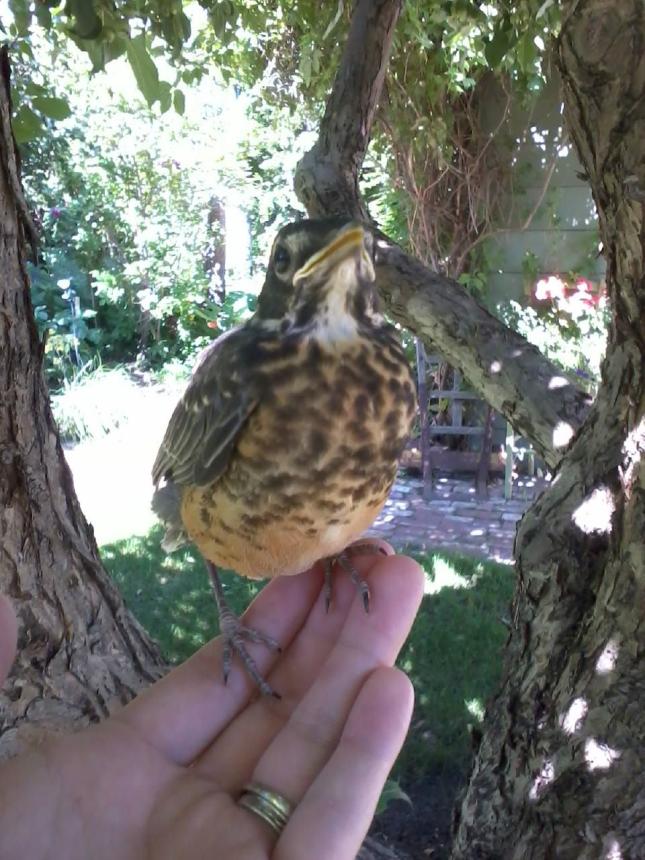 July 20, 2013- This is the time to look for "horned" House Finches at your seed feeders. These birds are not a unique species, but are young House Finches that have recently left the nest. For a short period of time, House Finch fledglings tend to retain patches of long, downy juvenile feathers that give them the appearance of having horns. Photos: Greg Yarkie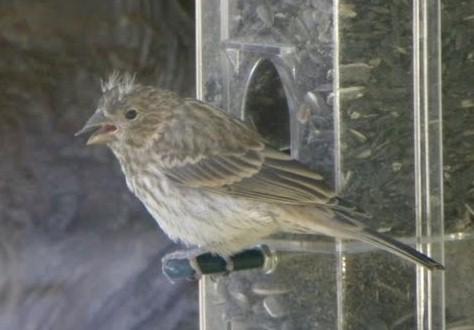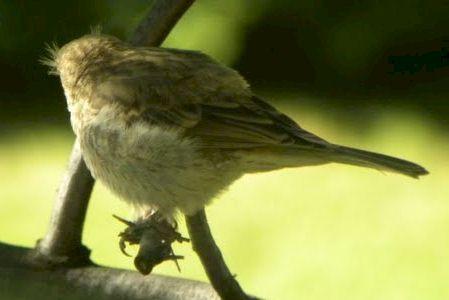 June 30, 2013 - Pelicans at Valencia Lake in north Edmonton. Photo by Christine Storgeoff.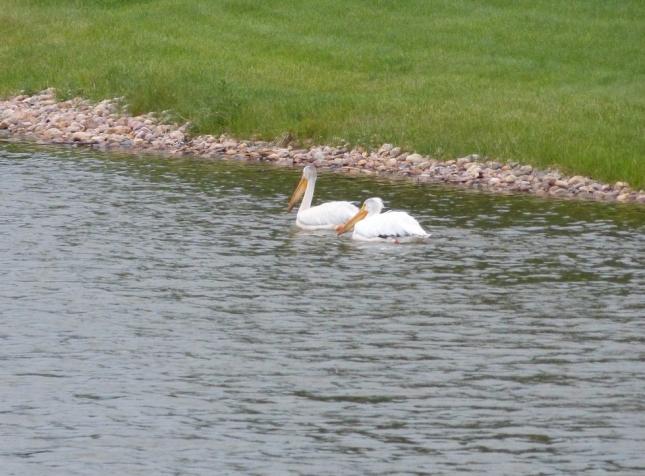 June 2013 - Thanks to Paul Anderson of Edmonton for these photos.
Everyone loves a parade!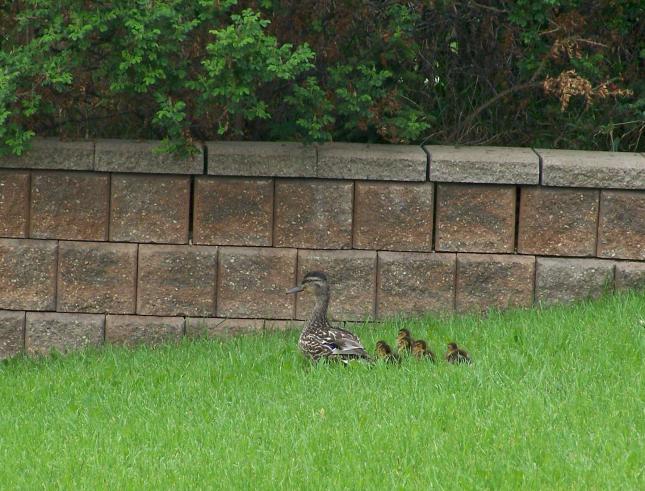 This Merlin found some luckless lunch!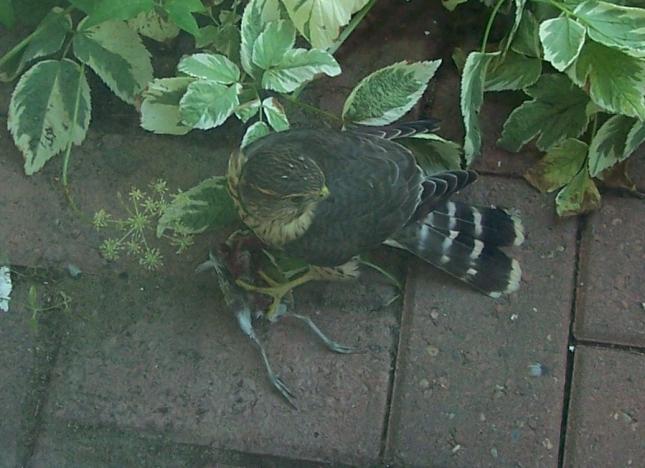 White-throated Sparrow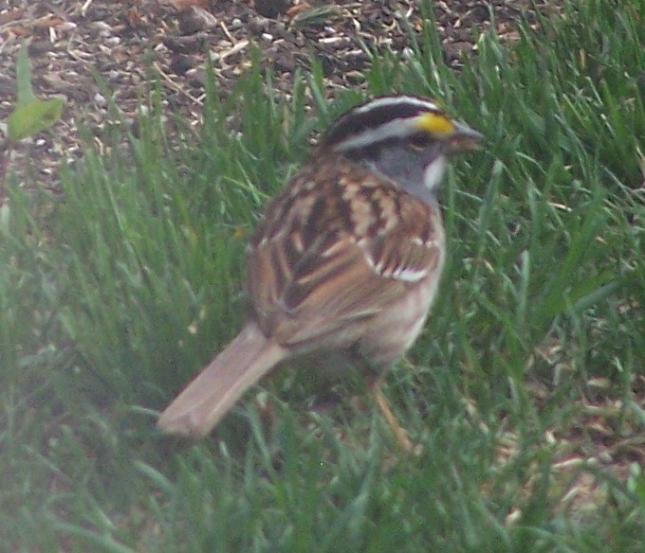 June 26 & June 27, 2013-"This cute couple have returned several times to our new feeder and stand, which was purchased 5 days ago from your great store!" Hank and Ardith Peetsma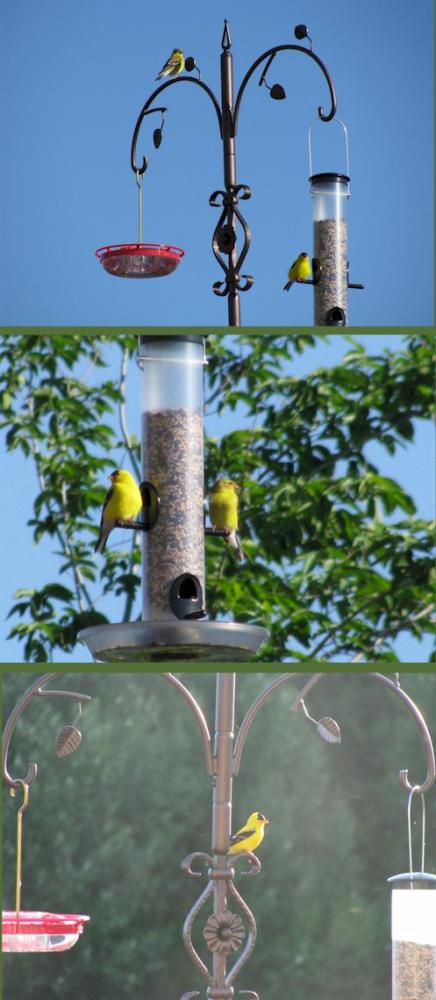 June 2013-Someone likes the rain and the worms it brings! Photo by Paul van Harte.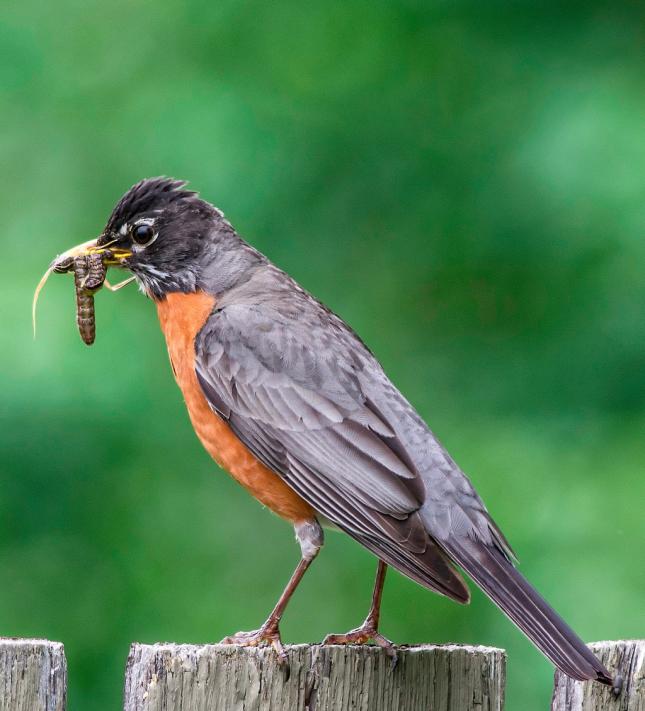 May 28, 2013- Thanks to Wendy Mallard for these photos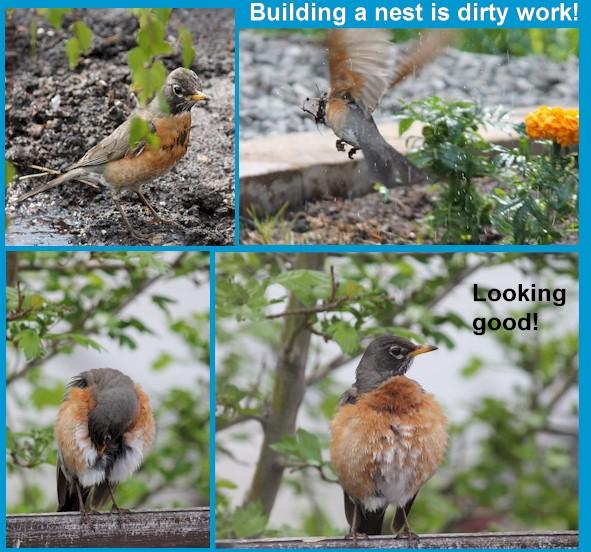 May 23, 2013- Baltimore Oriole taken by Paul van Harte in the La Perle area of Edmonton. Orioles like to eat the catkins on budding trees.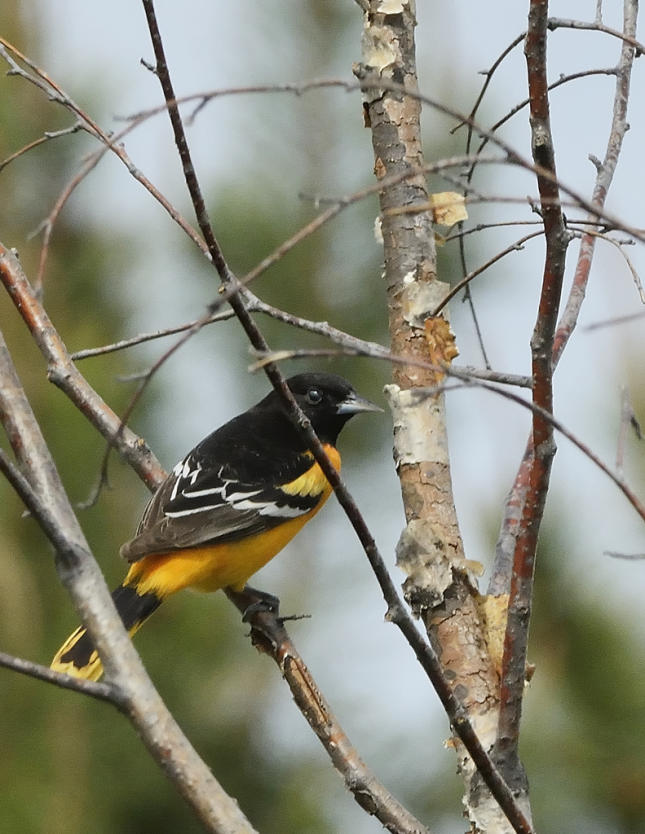 May 2013- Bald Eagles captured by Dale Scott in the Rover Valley in Strathcona County.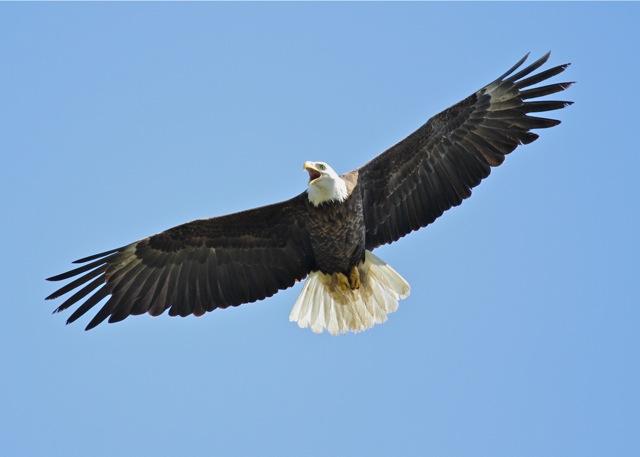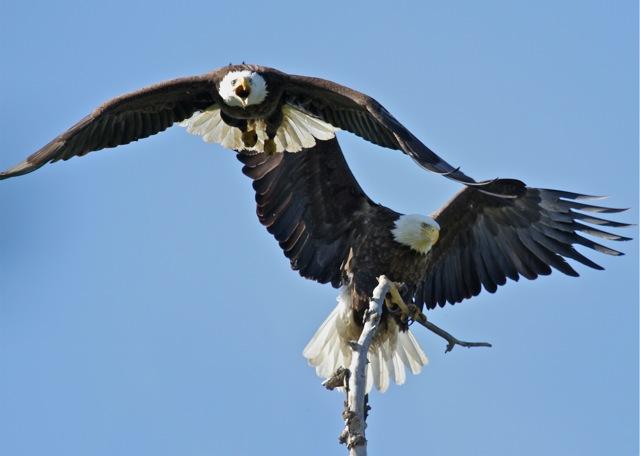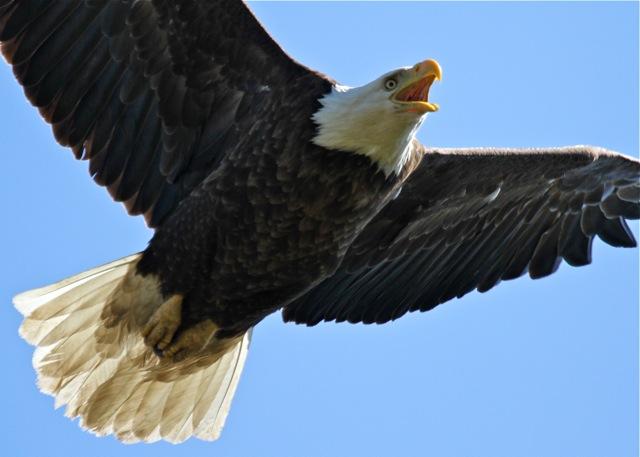 May 19, 2013- Ian Hope had an Eurasian Collared Dove in his city yard.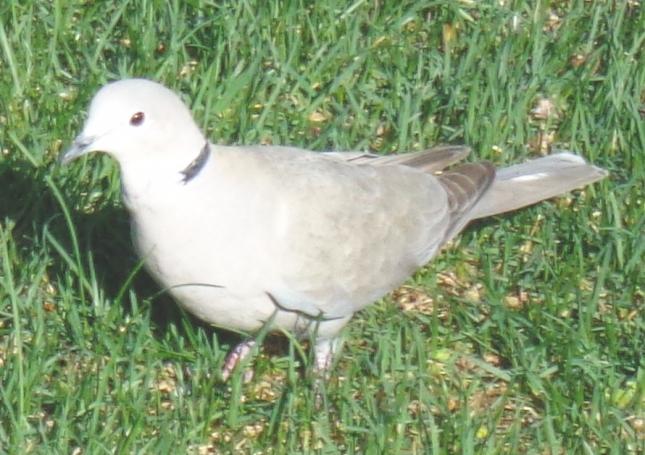 May 14, 2013 - Lots of robins these days. Mark Hall has them in his garden every evening for bath time.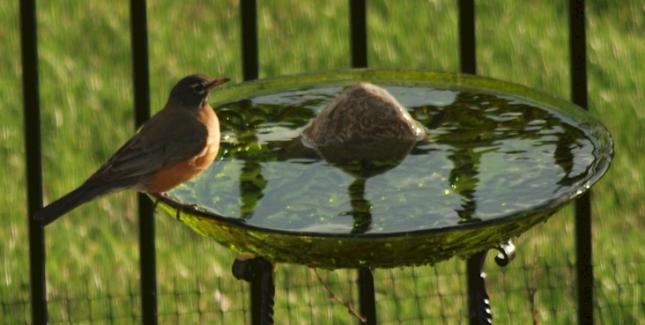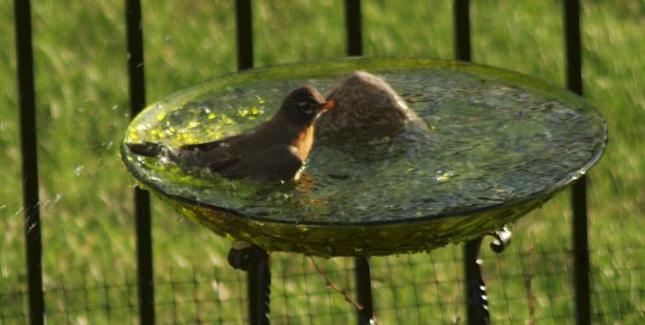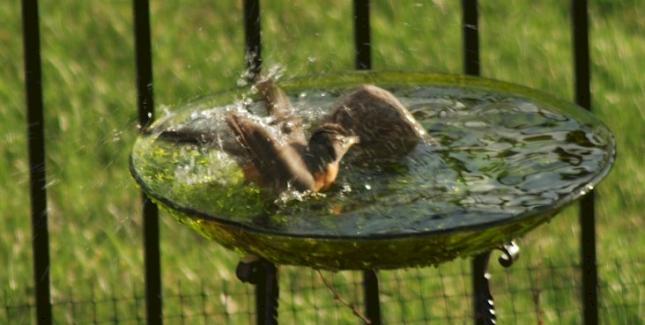 May 5, 2013-Little Chickadee at home. Photo: Wendy Mallard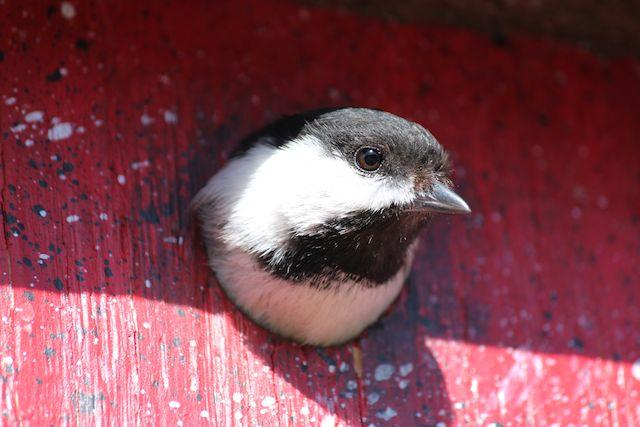 May 11, 2013- From Dale Scott: "These guys are showing up now in big numbers. These are both males of their species which usually arrive 5 or 7 days ahead of the females, the females are just started showing up today in the area have been visiting. It's pretty funny to watch the males go nuts when a female shows up, they chase her around relentlessly and chase each other off or they perch and sing and get all puffed up. I don't think the sound the Yellow-Heads make can be considered singing but it definitely gets your attention." Red-winged and Yellow-headed Blackbirds taken at the John E. Poole Wetland in St. Albert.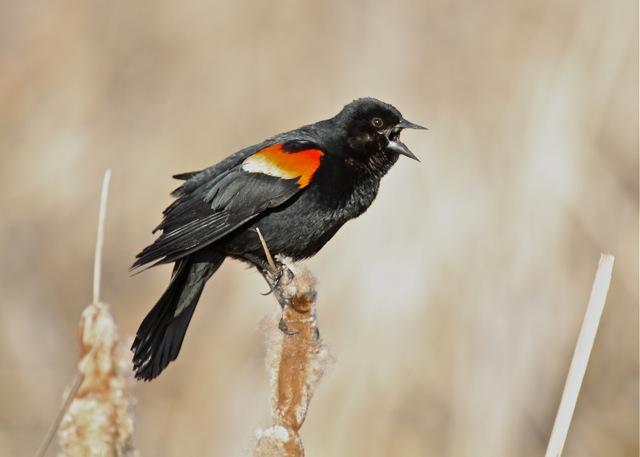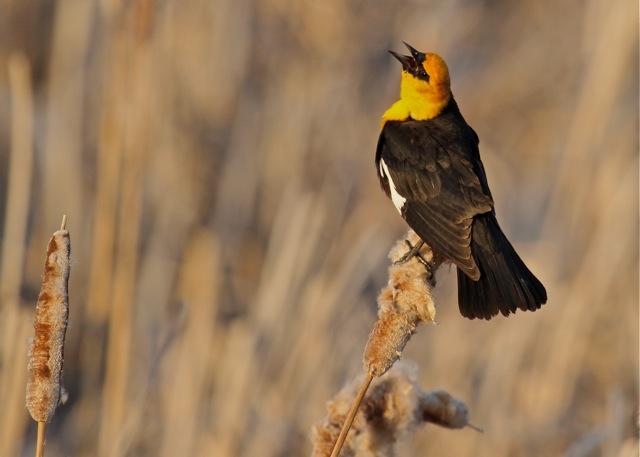 April 30, 2013 - a Loon at Anthony Henday and Callingwood Road. Photo by Dave Cleary.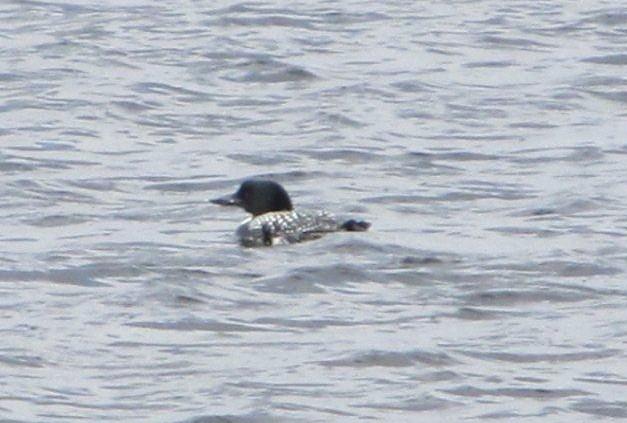 Marg and Allen Schmidt had this Saw-whet owl near their bird feeders Mar. 26, 2013. They often see them in the spring when they are desperate to find food.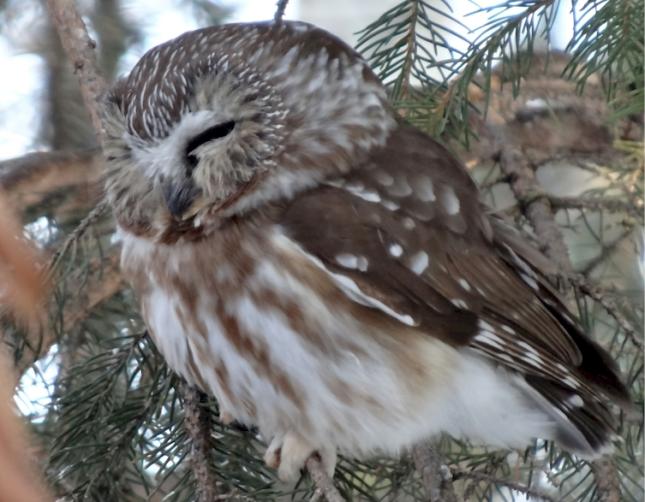 Marg and Allen Schmidt had this male Pileated Woodpecker at their peanut butter feeder, Mar 20, 2013. A pair comes regularly all year long.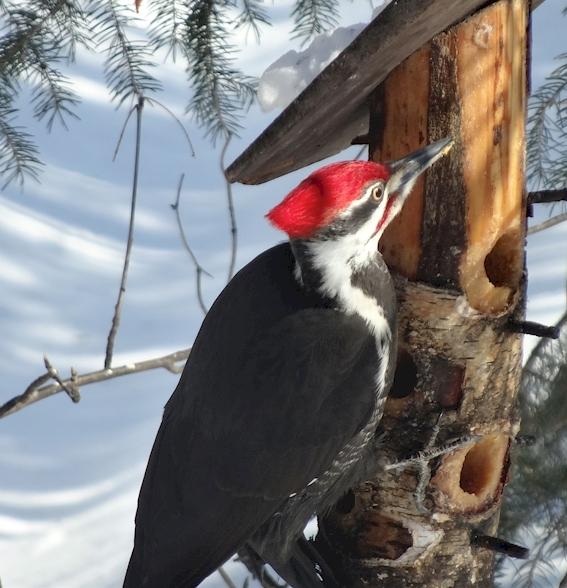 Sunday April 28
- Jack Park reported hearing the first Ruby-crowned Kinglet of the season the the ravine.
April 24, 2013-Tyson Wagner caught this chickadee enjoying a back rub at the Clifford E. Lee Bird Sanctuary. Looks like he's really leaning into it!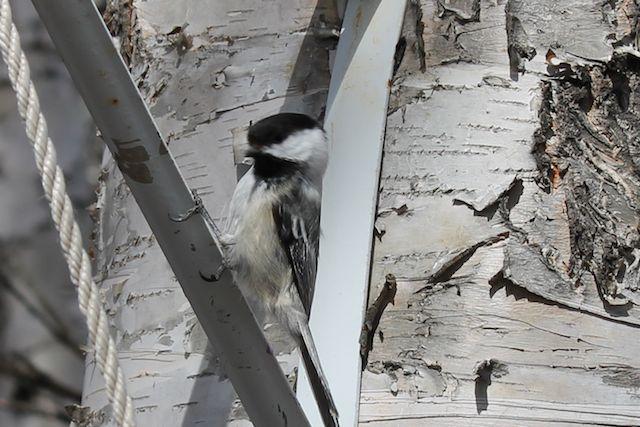 April 17, 2013- Jim Macgregor shot this photo of a male Merlin lunching on a Dark-eyed Junco (Slate-colored); the neighbor's garage eavestrough was used by this bird to contain the prey, while the dinner was plucked and eaten.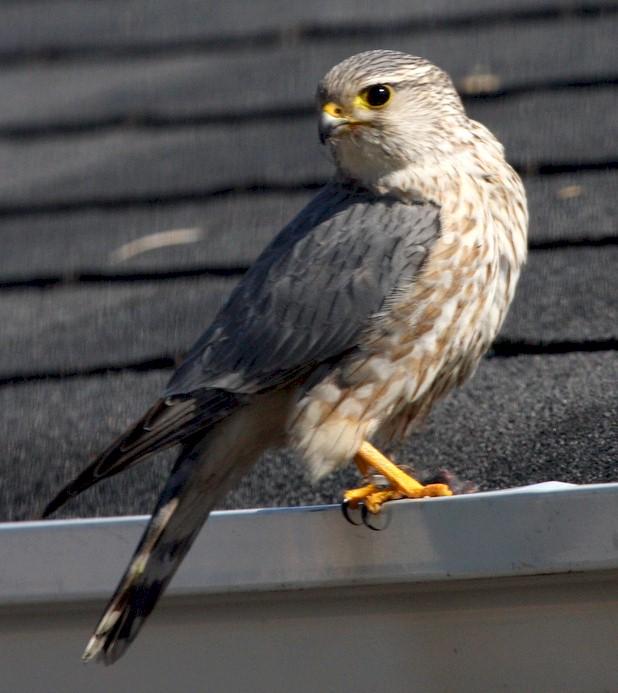 April 7, 2013- Bluebirds in the Tofield Alberta area. Photos courtesy of Janice Hurlburt.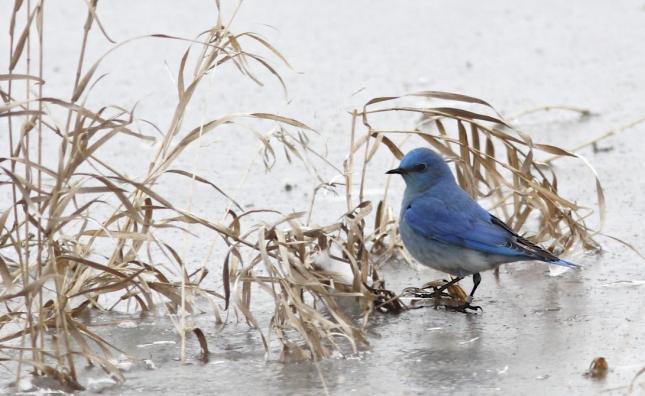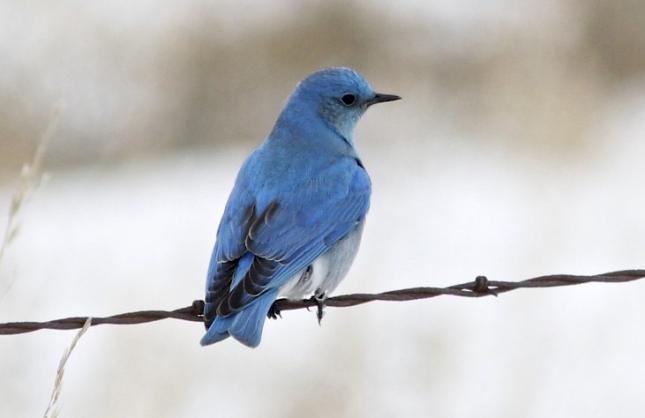 April 2013- Robin from Wendy Mallard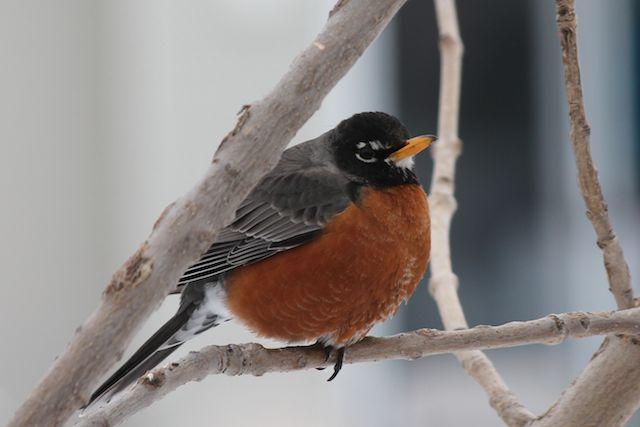 April 3, 2013-Glenn Rollans says, "We've got a pair of pileated woodpeckers coming regularly now. Score! That's one high-performance feeder you sold us." Photo by Lynn Zwicky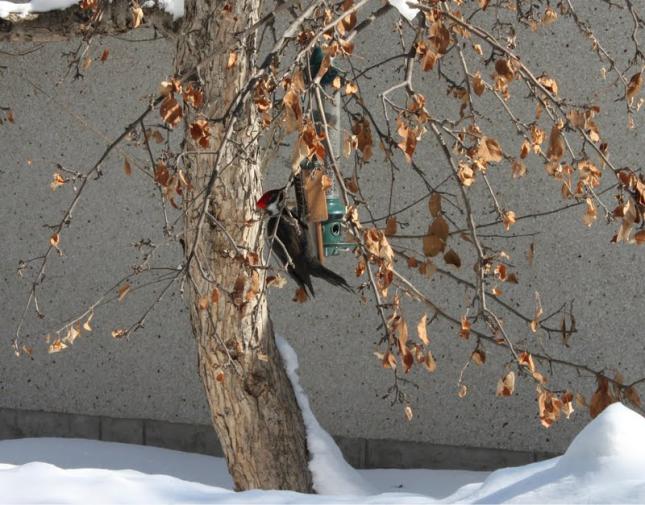 March 22, 2013- Chukars seen in the Magrath area. Not native to Edmonton, these may have been domesticated or released for hunting. On March 9 a gentleman reported seeing 5 of these Chukar Partridges in his front yard at 108 St and 33A Ave. Another person had reported seeing some of these birds (the same ones?) in the Keehewin area in October.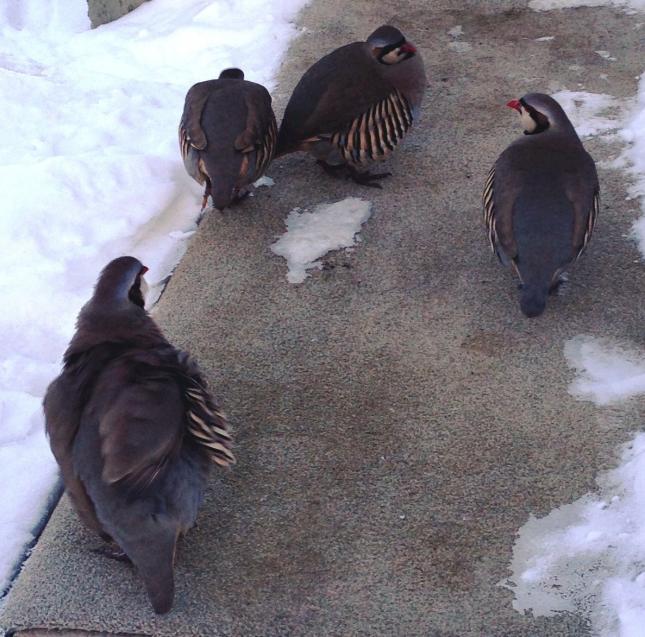 March 23, 2013-Janice Hurlburt has some pretty nice Flickers eating Bark Butter and suet in her yard!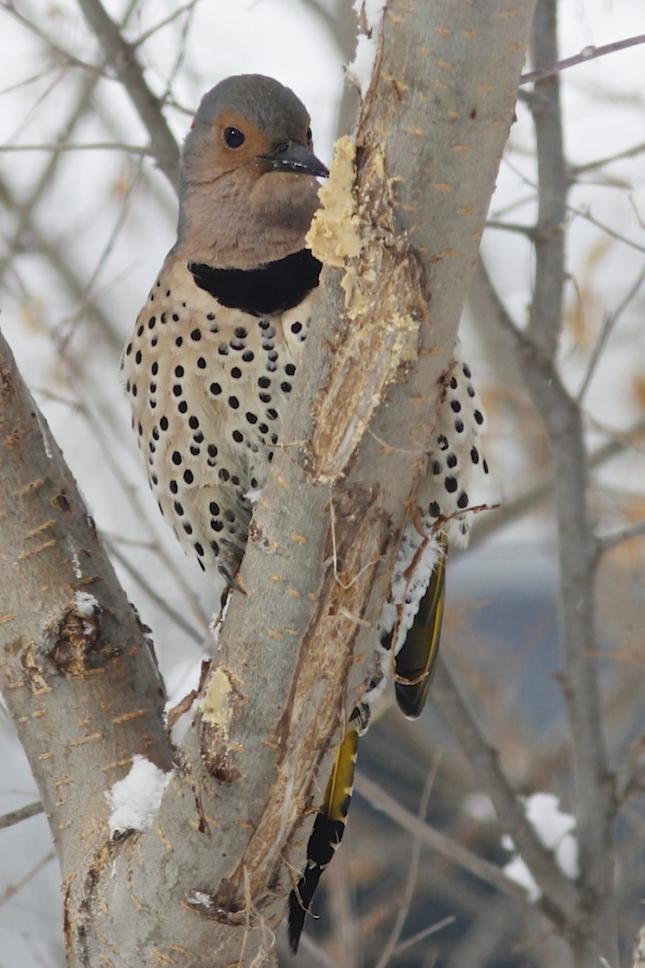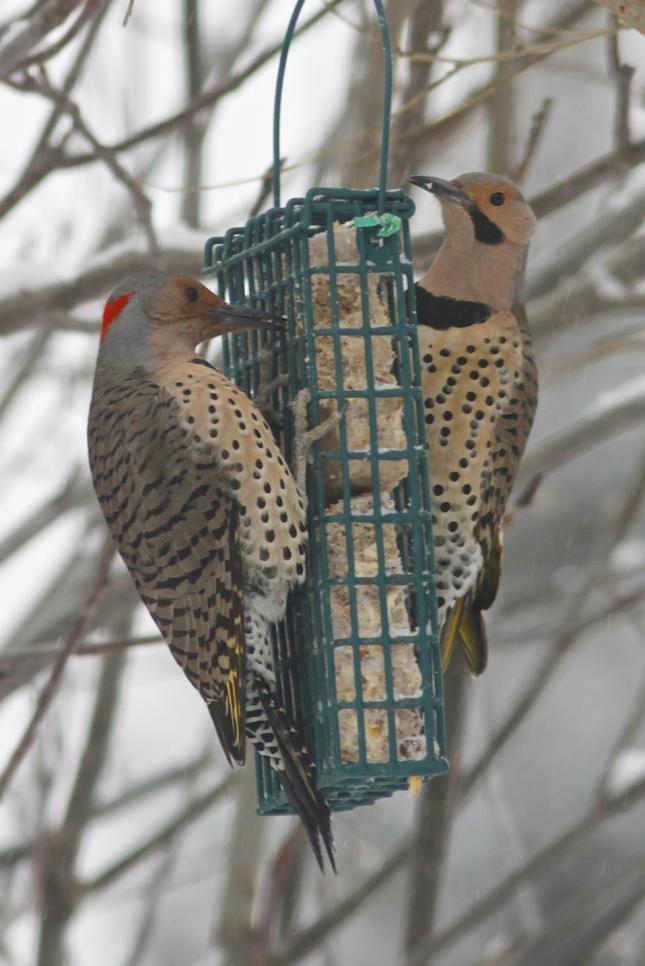 Mar 22, 2013 - Jack Park (staff at our store) called in to report a Red Crossbill at his feeder. First time in many years.
Christmas, 2012 - An owl, probably a Great Grey, has "plunged" into the snow to catch a mouse, and left evidence of two flaps of it's wings as it rises from the hunt to enjoy its meal. Photo by Dave Cleary taken west of Edmonton.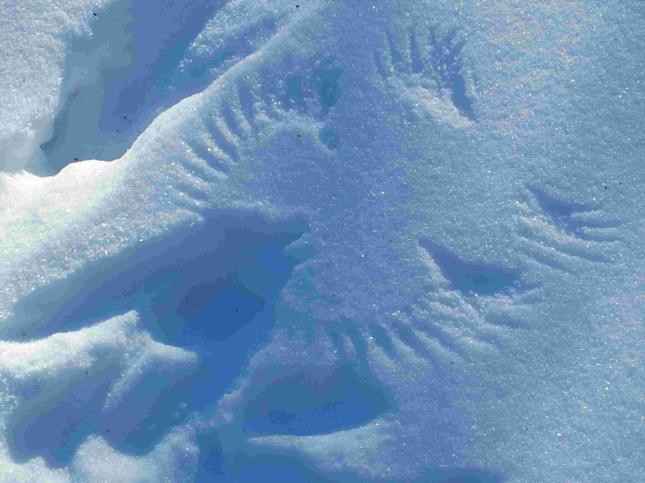 Bohemian Waxwing in Edmonton Feb 2013. Photo by Bob Borreson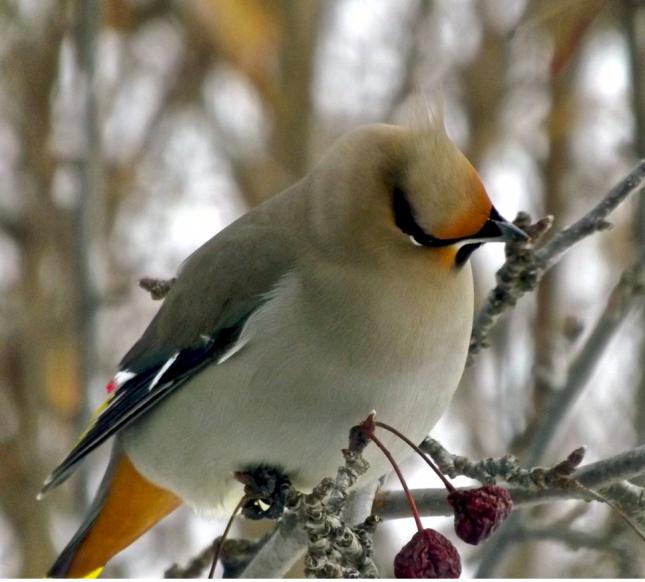 Here is a white Robin seen by a WBU customer in Kansas. It looks like an albino American Robin. See below for coloration information.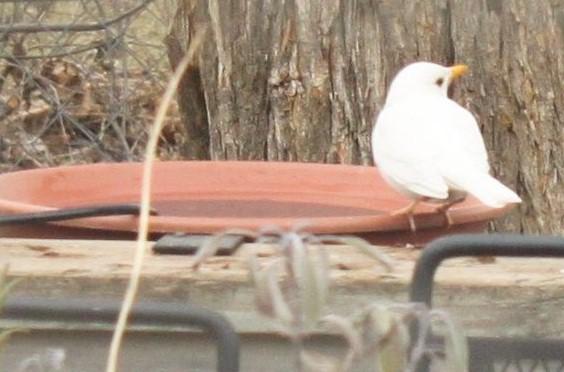 Can you see if the eyes are pink? If so, then it is a true albino. If the eyes are dark, then the bird would be termed a "leucistic" individual. A true albino produces no melanin pigment, the pigment responsible for black, many browns and gray (and a second form of melanin that can cause rusty red, like the tail of a Red-tailed Hawk or on the breast of a Robin). Lacking the ability to produce any pigment, a Robin will look white and the eye will be pink.
A leucistic (leucos = white) individual may simply be pale, have patches of white or be nearly all white, but it will usually still have dark eyes because some pigment is produced. An American Robin that is an albino will be all white because neither form of melanin (the form producing black to gray, called eumelanin, or phaeomelanin, the second form that causes the red breast) is produced by the body. The body makes all melanin by breaking down the amino acid, Tyrosine, which is prevalent in the diet.
In contrast, an albino American Goldfinch, for example, would still be yellow, but lack the black on the forehead, wings and tail. Those areas would be white because no melanin is produced, but the yellow is retained because yellow, bright reds and oranges are from carotenoid pigments that the bird cannot make, but must obtain through the diet. Carotenoids are plant pigments and are easy to obtain, either directly by eating plant parts (like seeds) that contain them, or sometimes secondarily by eating animals (insects, shrimp, etc.) that have eaten the plants and have carotenoids in their system.
Most albinos have relatively short lives. Their immune systems are usually somewhat compromised, but more importantly, the feathers break and wear away easily. The melanin gives strength to the feather making it less susceptible to breakage. It also makes it more difficult for feather lice and some keratin-degrading bacteria to attack the feather and erode it. For birds that spend a lot of time in the air, even the frictional forces of air moving over the feathers will cause excessive wear. Unable to keep feathers in prime condition, birds can be more susceptible to temperature loss and in some cases, may be rendered flightless before the next season's molt (as was the case in a very rare albino Frigatebird found in the south Pacific).
Dan Gleason
WBU of Eugene, OR
Instructor of Ornithology, University of Oregon


Our bird of the month, Bohemian Waxwing. Photo by Dale Scott dalerscott@shaw.ca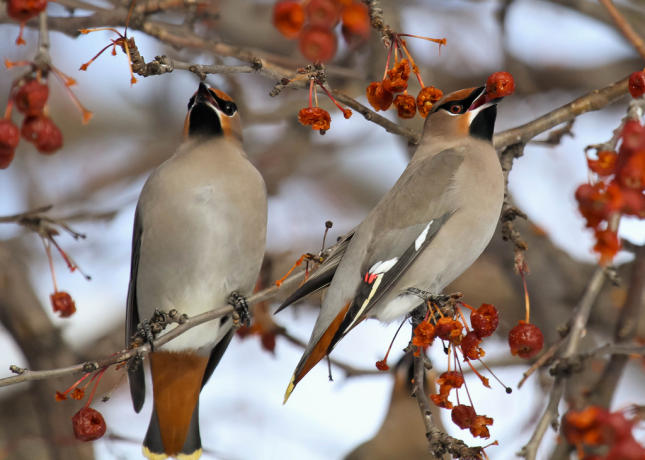 Male & female Pine Grosbeak out for dinner, thanks to Bob Borreson.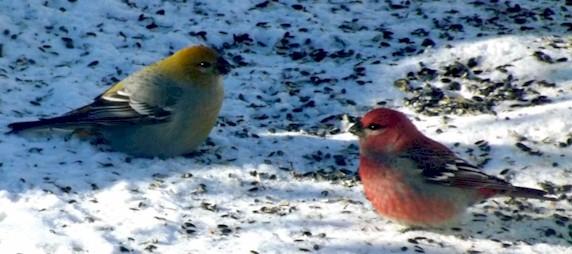 Pine Grosbeak visits during -43C windchill morning Jan 29, 2013. Keeping those toes warm. Photo by Bob Borreson.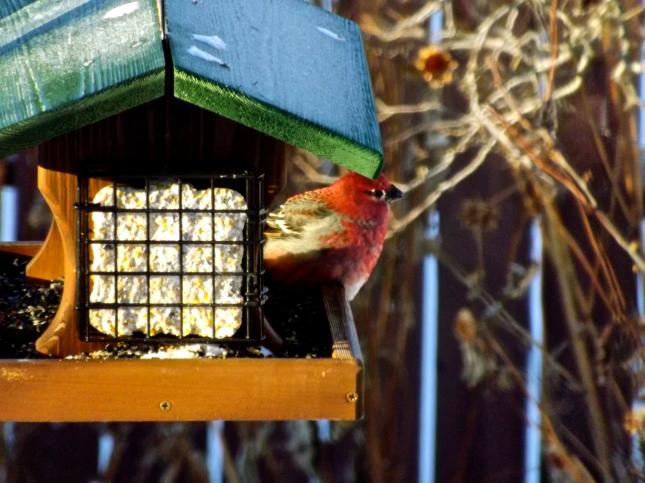 January 18, 2012 - Female Common Redpoll, Dale Scott dalerscott@shaw.ca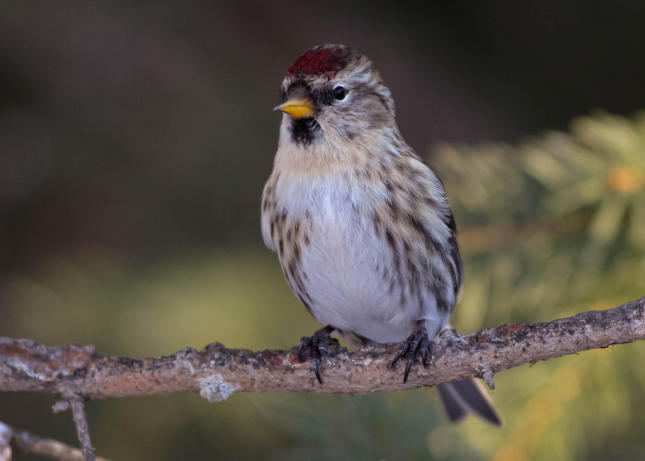 December 23, 2012 - Jack Park reported seeing a hybrid Yellow Shafted/Red Shafted Flicker on his feeder. The sighting was confirmed by a neighbour who saw the same hybrid flicker. He also has a Yellow Shafted Flicker at his feeder.

November 29, 2012- Saw-whet Owl taken by Gordon Elbrond, who said the bird was close enough to touch.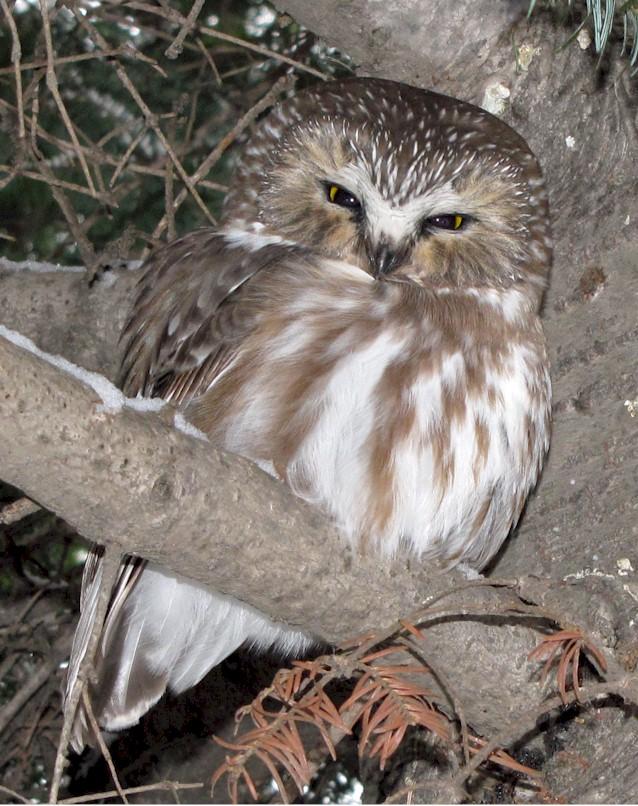 December 4, 2012- Flicker in West Edmonton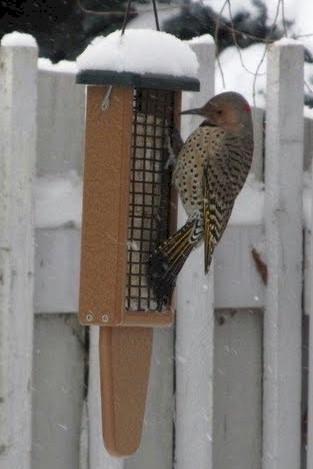 November 2012- Here is an unusual bird. Originally we thought this was a partial albino female House or Purple Finch. After further research, we think this is what is called a "luecistic pied" House Finch. See the description of this condition at Project Feeder Watch where pigments are deposited in feathers unequally. This photo was taken by Karen Gall.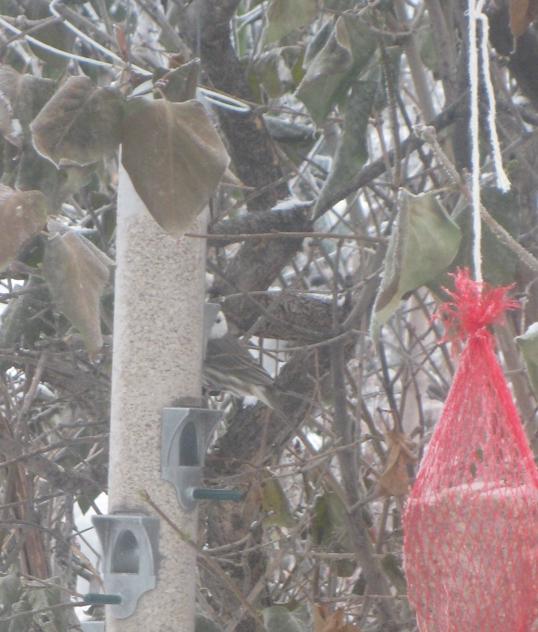 November 2012-Thanks to Wendy Mallard for this gorgeous redhead!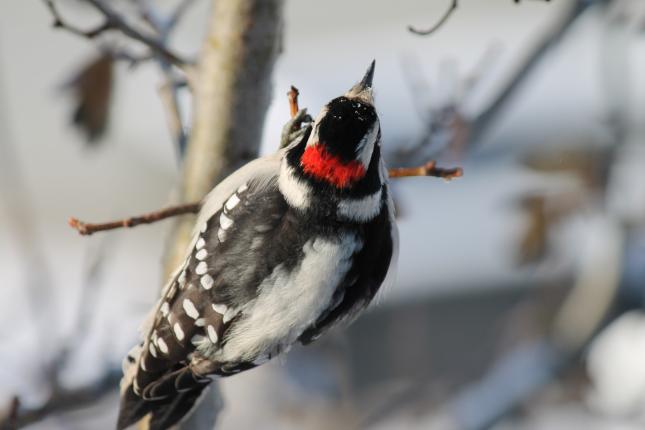 October 2012-Thanks to Wendy Mallard for sharing photos of her birds enjoying her new pole system, not to mention her peanuts! Wendy says she puts some peanuts on a rock in the bird bath to slow these bandits down so she can photograph them! Note the Blue Jay probably putting multiple peanuts into its throat pouch.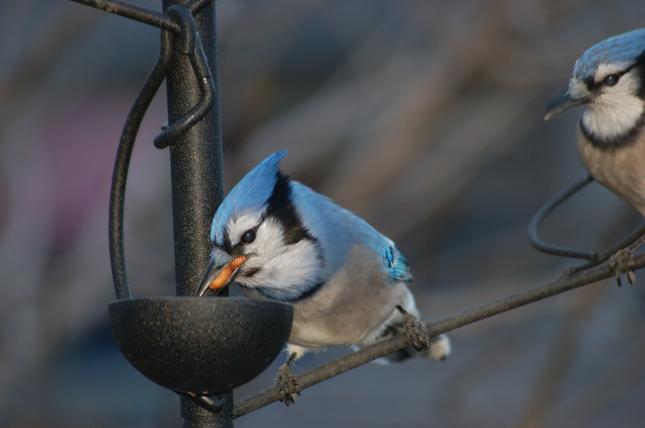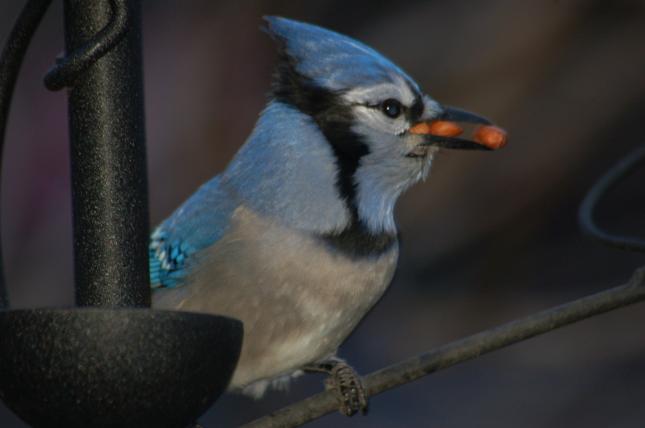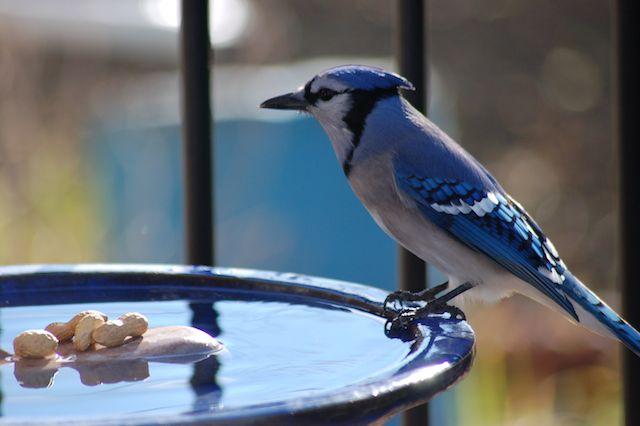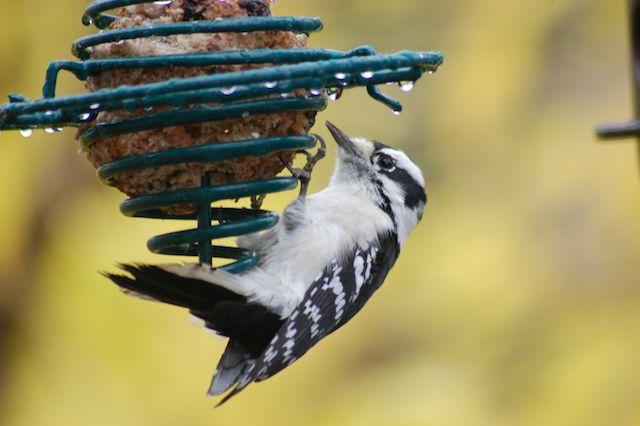 October 2012 - White Throated Sparow photographed by Jim Brohman in Edmonton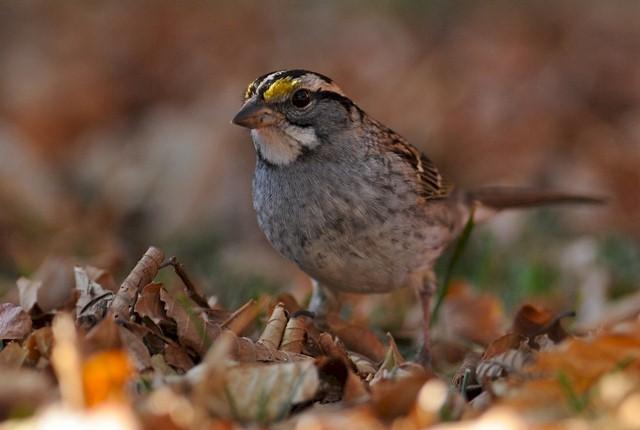 Late Bloomer-This hummingbird was seen by Guy Kinney in Edmonton on Sept 3, 2012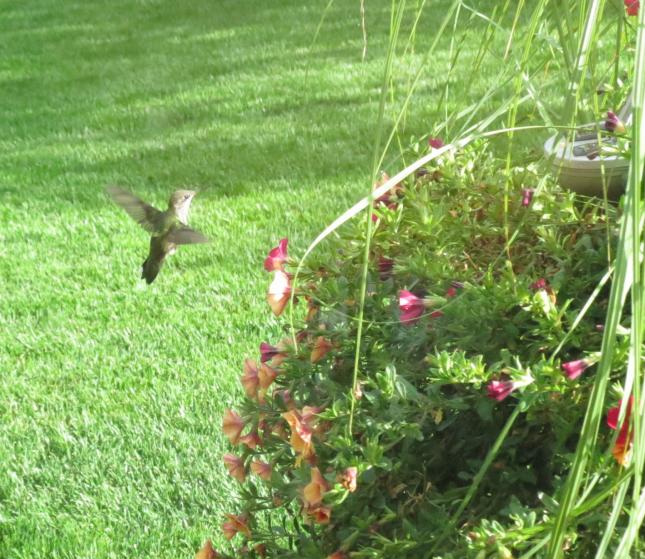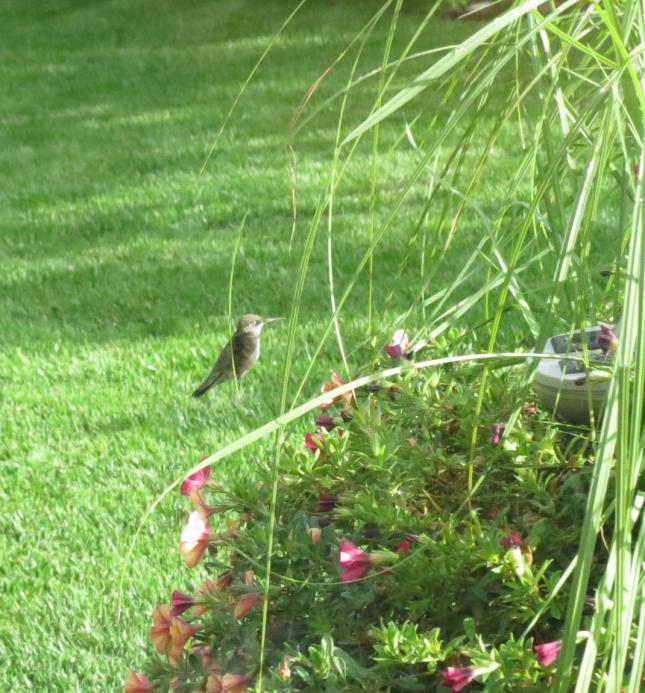 September 2012-snow geese between Rosetown and Swift Current. A beautiful Alberta scene.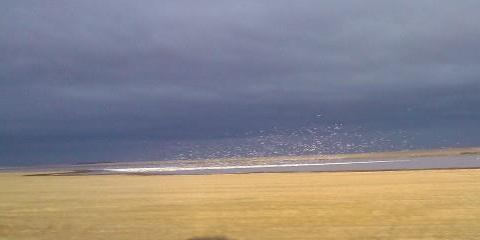 August 2012-Nuthatch and Pine Siskin west of Edmonton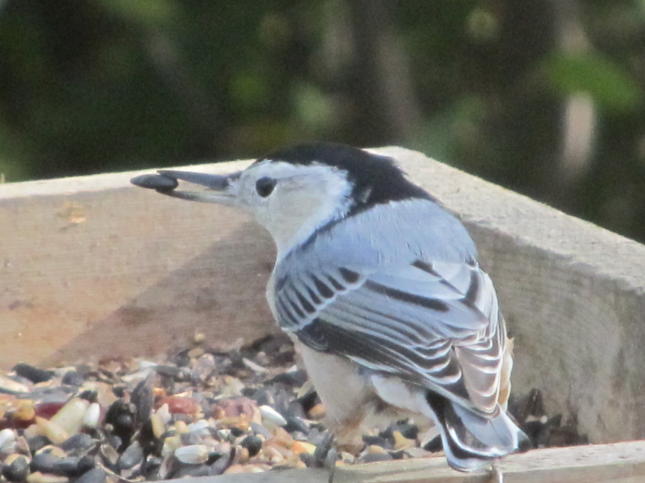 August 2012 - A customer in Conneticut sent us this photo from her backyard. This male cardinal
sits on top of her pole and communes with the Holscher cardinal finial every morning
and evening. The behavior has been happening for over 1 month.
Maybe he lost his mate and is lonely?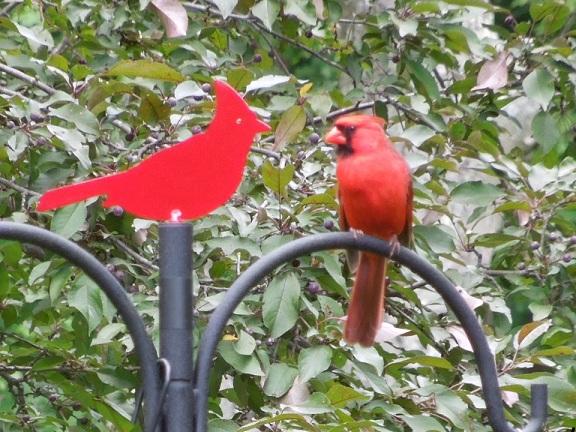 August 26, 2012 - Ruby Throated Hummingbird at Mayatan Lake west of Edmonton, photos Jan Chapman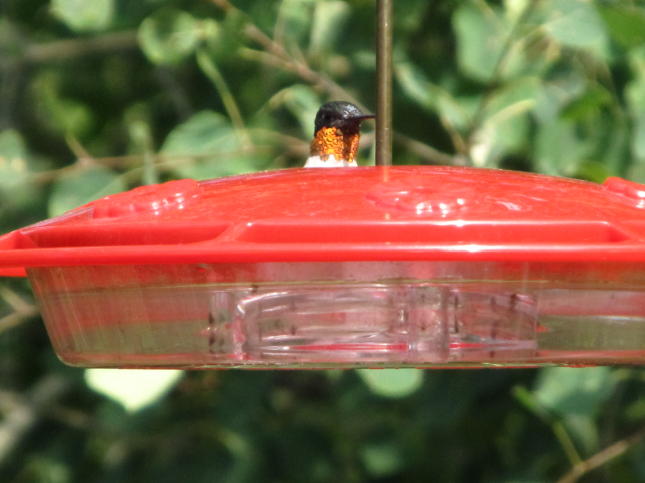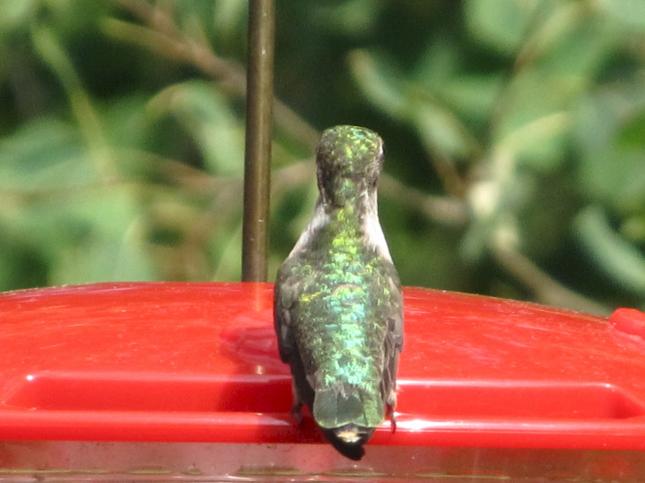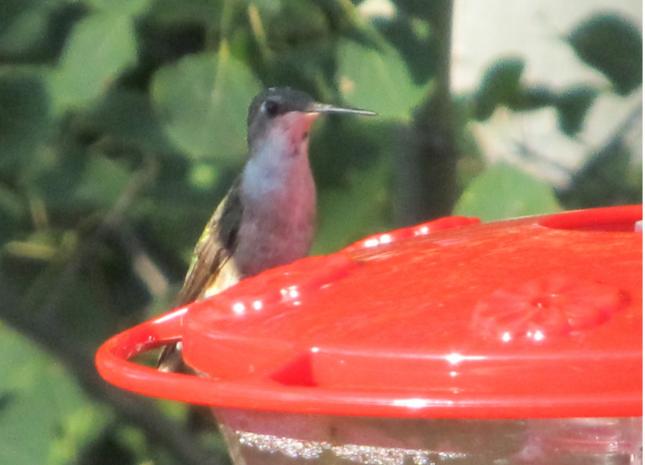 August 12, 2012 - Maggie Hudson caught these hummers, attracted by flowering Runner Beans, trailing Fuchias and Honeysuckle in Rhatigan Road West in the Riverbend area. Lovely!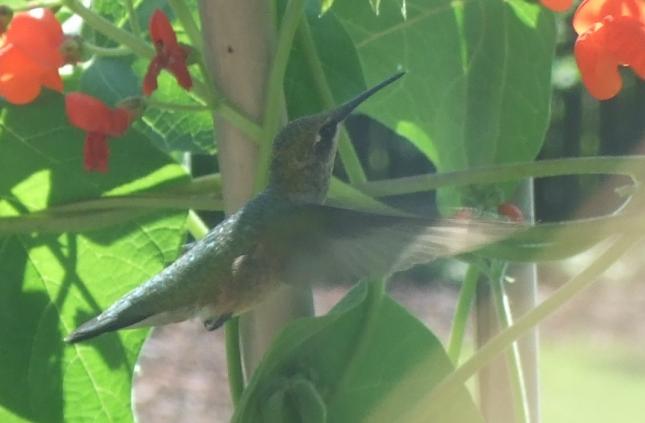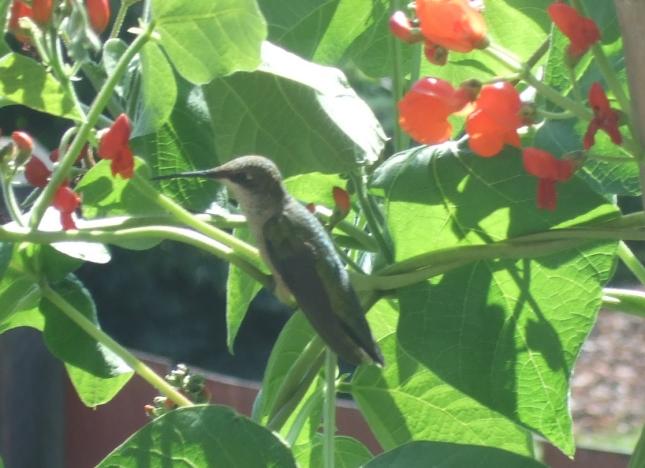 August 11, 2012- Blue Jays eating Choice Plus Blend, photo Jan Chapman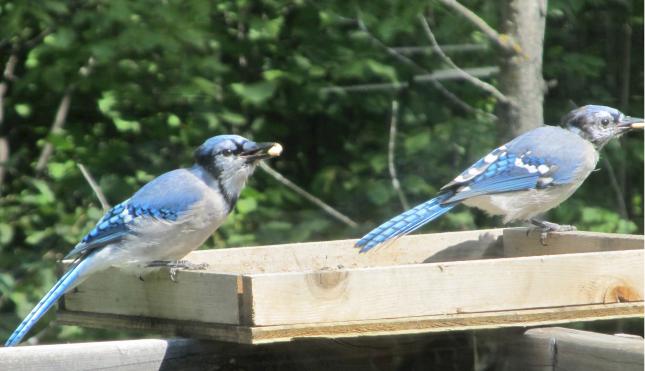 August 21, 2012- a woodpecker enjoying some Bark Butter on a Linden tree in West Edmonton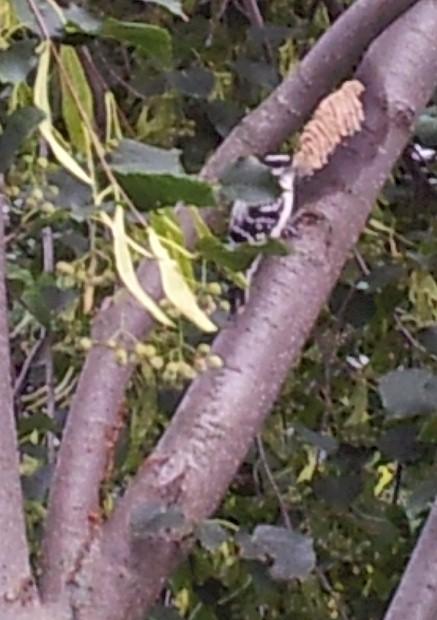 August 9, 2012-a juvenile white Magpie was seen in the University area. This is not a true albino as it has some grey colouring.